Stephen Curry is known to be a faithful family man who always looks out for his loved ones. While many celebrities struggle to find a balance in their married lives, Steph is quite dedicated and involved with his family. The baby-faced assassin is one of the biggest stars in the NBA. He is occupied on the basketball court for the better part of the year. However, Curry still manages to find time for his loving wife, Ayesha, and their three beautiful kids.
Ayesha has been with Steph Curry even before he became a big NBA star. The couple got married over 11 years ago, and their bond has only gotten stronger with time. Co-parenting is the key to a happy family, but it is not an easy feat. However, Mr. and Mrs. Curry seem to be rocking it quite well.
ADVERTISEMENT
Article continues below this ad
Stephen and Ayesha are raising three kids on their own while managing their progressive careers in the sports and entertainment field. Curry has been active in the NBA since 2009, and Ayesha has established herself as a famous TV personality and cooking expert.
Stephen Curry looks out for his family
Back in 2016, Stephen & Ayesha did a cover shoot for the renowned magazine Parents. The star couple was also part of a behind-the-scenes video, which gave an insight into their relationship and how they deal with parenthood.
Further, Steph talked about their matching tattoos and pre-game rituals. The eight-time NBA All-Star also shared how he bonded with Ayesha over Canadian candy Fuzzy Peaches.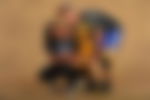 During the video, Curry recalled an incident during a game that got him really worried.  Ayesha was running late to the game due to an Uber mishap, and she could not make it until halfway through the first quarter.
ADVERTISEMENT
Article continues below this ad
Steph was concerned about what might have happened and could not really focus on playing until his wife got there. The 34-year-old said, "I was looking up there like every dead ball. All right, what's going on? I might have to call one of our security guards and make sure they are okay."
The duo is dedicated to looking out for each other. Steph and Ayesha have been together for a while. She has been a major reason behind his on-court achievements. Steph's wife has always supported him through thick and thin. Curry has reciprocated the same support to his life partner. He has stood by Ayesha's side and supported her career as a cookbook author and a TV show host. 
ADVERTISEMENT
Article continues below this ad
Watch This Story: Stephen Curry & wife but a seven-figure worth house in Florida
Apart from having a loving family, the couple actively contributes toward social causes like eradicating hunger and promoting literacy. Hopefully, Stephen & Ayesha Curry will keep up the good work.