The NBA universe knows Anthony Edwards, one of the most electrifying youngsters in the league. The former number one pick set the stage ablaze last season in the playoffs. Soaring through the gyms, his skills keep getting upgraded every season. With an almost video game vertical, the 21-year-old is a show-stopping talent. However, his recent actions brought in tons of backlash, including from Los Angeles Lakers legend Kareem Abdul-Jabbar.
Edwards found himself in trouble after posting a derogatory Instagram story. Having a following of over a million, he serves as a huge public figure. So when he shared a homophobic story and used racial slurs, the Timberwolves star was under the fire.
ADVERTISEMENT
Article continues below this ad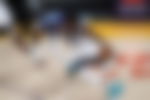 He later publicly apologized for his behavior. In addition, even the Minnesota Timberwolves did not condone his actions.
DIVE DEEPER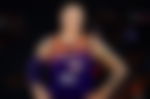 Likewise, as the talks reached the NBA's all-time leading scorer, he also had an opinion. And there is something he wished the 21-year-old can do to remedy his mistakes.
Lakers legend Kareem Abdul-Jabbar reacts to Anthony Edwards' controversy
Abdul-Jabbar has been a social activist for the longest time. At just the tender age of 20, he stood beside some of the most iconic black athletes to show his support, for instance, Muhammad Ali. Likewise, the six-time NBA champion continues to be loud on social issues. And in his recent article, the Lakers legend spoke about the incident surrounding Timberwolves star, Anthony Edwards.
ADVERTISEMENT
Article continues below this ad
The Hall of Famer feels such actions from athletes have come to a regular theme. In addition, an apology isn't enough in his books. Kareem Abdul-Jabbar said: "It would be easy to dismiss Edwards' immaturity—he's only 21—if not for the fact that we've seen so many cases of famous athletes and owners in the news spouting racism, misogyny, and anti-LGBTQ+ sentiments. This damages sports in general and their teams specifically, and revives the old stereotype of the dumb, bullying jock."
In the past, the likes of Kevin Durant have also been guilty of using racial slurs and misogyny (during his exchange with Michael Rapaport). The Slim Reaper suffered a fine of $50,000 from the NBA. While Edwards can expect a similar punishment, Abdul-Jabbar wants the NBA star to make a change. Notably, the Lakers legend feels the 21-year-old star needs to contribute to various LGBTQ+ organizations to show his support. For the NBA Hall of Famer, an apology without any actions would be meaningless.
ADVERTISEMENT
Article continues below this ad
WATCH THIS STORY: 3 Times 395 Pound NBA Giant Shaquille ONeal Scared The Life Out Of Fans By Diving Head First Into The Crowd
Do you agree with Kareem Abdul-Jabbar? Let us know your views in the comments below.