NBA superstar Stephen Curry is arguably the best shooter ever. However, he was not always considered a superstar. During high school, he was a good player. However, he was known around the place for being the son of former NBA star Dell Curry. He also did not receive many Division-I scholarships. He joined Davidson college in Davidson, North Carolina. The only Division-I college that offered him a scholarship. It was one of the smallest schools that played Division-I sports. However, all Curry needed was a chance to improve and game time to showcase his abilities.
Interestingly, the baby-faced assassin reportedly showed up at Davidson for freshman orientation with a microwave, "his laptop, four duffel bags and a red, white, and blue quilt he got from his grandmother as a graduation gift." Very humble beginnings indeed. However, no one could have predicted what they were about to witness. His teammates and the entire school were witnessing greatness in the making. Curry slowly developed his physicality a bit and started to consistently hit shots from behind the arc.
ADVERTISEMENT
Article continues below this ad
DIVE DEEPER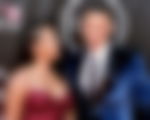 In his first year for the Davidson Wildcats, he won the Southern Conference's Freshman of the Year award. In his second year, he started putting up wild numbers against strong Division-I teams.
Stephen Curry graduates after more than a decade in the NBA
Stephen Curry in his second year also led the Wildcats Elite Eight, only missing out on a Final Four appearance by a whisker. In 2009, he became the NCAA scoring leader and also made the Consensus first-team All-American. He then declared for the 2009 NBA draft before graduating. Recently, after more than a decade in the league Curry graduated from Davidson College.
ADVERTISEMENT
Article continues below this ad
The former MVP needed to complete one semester of coursework to earn his Bachelor of Science degree in Sociology, which he accomplished in May. Furthermore, the college retired his #30 jersey, and also inducted him into Davidson College's Hall of Fame.
The Golden State Warriors selected Curry as the seventh overall pick in the 2009 NBA draft. Everyone knew he was a good shooter, however, not many realized he had the potential to change the game of basketball. Maybe not even him. He just played the game like he always did and was having fun on the hardwood.
ADVERTISEMENT
Article continues below this ad
WATCH THIS STORY – Stephen Curry's Secret Weapon That Kept Him Injury Free and Helped the Warriors Star Clinch NBA Finals MVP
The Dubs guard is one of the silliest players around. However, he also had the killer instinct to put a game to bed when it was crunch time. Despite initial struggles with an ankle injury, the Warriors chose to build the team around him. And he helped them win four NBA championships so far. And it looks like he is not done yet.