Stephen Curry was a regular on The Ellen Show. He has featured in several episodes alongside his wife, Ayesha Curry, and former First Lady Michelle Obama. In 2016, Curry showed the world that he is a good sport during an episode with Michelle Obama. Host Ellen DeGeneres and Michelle Obama played a game that ended with Curry getting completely drenched. The Golden State Warriors point guard did nothing but smile throughout the event. 
ADVERTISEMENT
Article continues below this ad
As fame caught up with Curry, he started attending talk shows like The Ellen Show, The Late Late Show with James Corden, and more. The two-time MVP's appearances on these shows gave fans an insight into his life and personality. Soon the fans enjoyed watching not only Curry on the court but also off the court.
ADVERTISEMENT
Article continues below this ad
Stephen Curry on the Ellen Show
On The Ellen Show in 2016, Ellen introduced a game called, "Oops! My water broke." Stephen Curry was made to sit under a tube filled with water balloons and long-black pins. Michelle Obama and Ellen, one after the other, were required to pull the black pins out. Additionally, the duo had to make sure that the balloons wouldn't drop on Curry. However, there was a catch. Ellen said, "The person who makes all the balloons drop is the loser." 
DIVE DEEPER
Michelle Obama started the game while Curry waited with bated breath for the water balloons to fall on him. During the third round, when Michelle Obama pulled a pin out, one of the water balloons landed on Curry. Michelle Obama said, "Sorry babe, I still love you." Curry wiped off the water from his face and simply giggled. The audience squealed and applauded.
ADVERTISEMENT
Article continues below this ad
When the balloons started falling in rapid succession, Curry said, "I am comfortable now this is cool." The game ended with all the balloons falling on Curry. Eventually, Curry was drenched in water. Michelle Obama applauded Curry for being a good sport.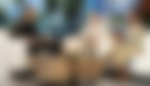 In the episode, Curry also opened up about playing golf with former President Barack Obama. He stated that the president's trash talk got under his skin. Michelle Obama quickly chipped in and advised Curry to stand up for himself. She said, "You should trash talk back. Talk about his ears." She then gave him some tips for trash-talking.
ADVERTISEMENT
Article continues below this ad
Watch This Story: Latest video shows Snoop Dogg making 6'2 Stephen Curry look small
What are your views on this segment? Let us know in the comments below.