"Are we smiling?" Zion Williamson asks.
Our photographer is snapping away, and Williamson needs to get on the same page as his fellow KICKS cover stars—Luka Doncic and Jayson Tatum. Smiles or straight faces?
On this day in early July, it's hard not to smile. We're on a boat in the heart of Paris, docked along the Seine. The Eiffel Tower—about a mile up the river—creates a backdrop so stunning it looks almost fake. After a morning of rain, the clouds have parted and the sun shines down, beaming through the ceiling windows. Biggie's "Sky's the Limit"—Zion's choice—blasts through a speaker. Williamson, Doncic and Tatum are standing on white seamless paper, delicately holding the latest offerings in their signature lines with Jordan Brand—the Zion 3, Luka 2 and Tatum 1—like they're newborn babies. A large-scale media event has been organized for the afternoon, where the three sneakers will officially be introduced to the world.
So, yeah, there's a lot to smile about. But the verdict? Straight faces. Mean mugs.
KICKS 26 featuring Zion, JT and Luka is available now. Shop here.
On the surface, Williamson, Doncic and Tatum have a lot in common. They are all young superstars (Tatum is the oldest at 25, Doncic is 24 and Williamson just turned 23 in July)—leaders of the next generation to take over the NBA. They are all versatile, positionless players—embodiments of the direction the game is heading. And, of course, they are all part of Jordan Brand's exclusive roster of signature athletes.
Yet, it's the uniqueness of each player that makes the design process both challenging and stimulating for the Jordan team. "It makes it more interesting, to be real," says David Cin, Jordan Brand Senior Design Director of Performance Footwear. "It's definitely challenging—you have to study what their needs are."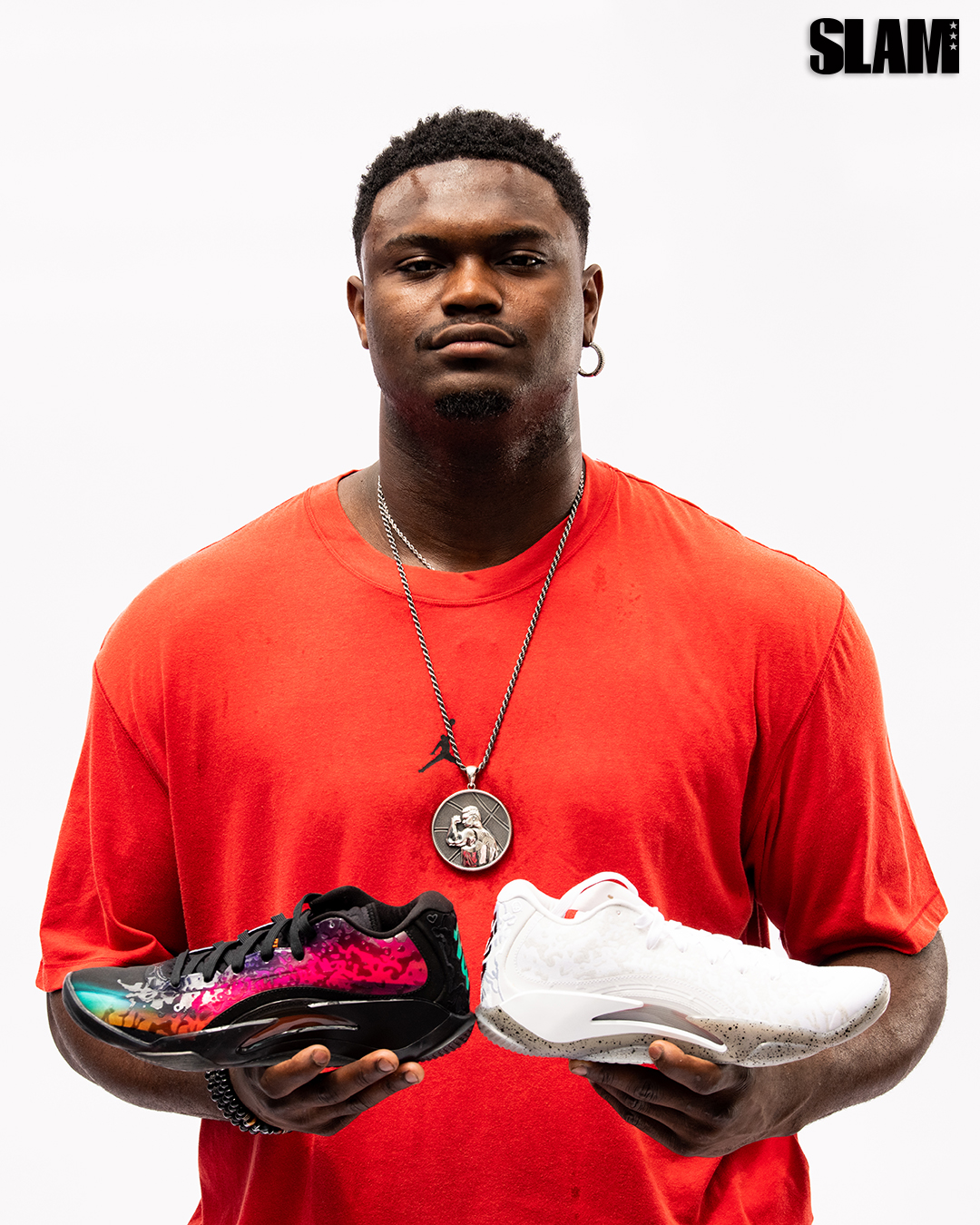 The Brand constructs its basketball products based on two core principles: motion and emotion. First, silhouettes are crafted to benefit the motion of players on the floor. Designers study game film (not unlike how coaches do) to discern the precise movements and styles of their athletes. They grab clips and break them down into individual frames, laying out the images on a giant mural board. The question then becomes, How do we build a shoe perfectly tailored to these types of movements? Mechanical engineers work with material experts and other specialists to come up with the right solutions.
Of course, design decisions are also informed by meetings with the athletes themselves. That's where the emotion component of each pair—which deals more with the narrative that surrounds it—is mostly unpacked. Beyond creating products that enhance performance, the Brand aims to evoke emotion through storytelling. The Zion 3, Luka 2 and Tatum 1 are all reflections of their namesakes' journeys to this point.
"At the end of the day, it's about really digging deeper into who our athletes are as people and allowing our consumer to see that other side," says Kelsey Amy, Jordan Brand Expert Color Designer of Performance Footwear.
"We knew that had to be a part of the equation, too," adds Cin. "Thinking about, Hey, what's that feeling you get [from shoes]? How can we tap into that? How can we inspire kids?"
Williamson is seated on the lower deck of the boat, where the multi-hued carpet nearly matches the "Sanctuary" colorway of his Zion 3. We've asked the Pelicans star to describe his emotions on this dreamlike afternoon. He takes a deep breath, and that youthful smile returns to his face. "Two words," he says. "Lord Jesus! Lord Jesus! Lord Jesus!"
It's a cliché, but Williamson really looks like a kid on Christmas morning—only he's seen this present before, many, many times. As he tells KICKS, he's even more excited about the Zion 3 than he was about the first two releases in his signature line.
"When you look at my signature shoes, each shoe was built to represent what I was doing extremely well during that time," he explains. "During my first year and a half in the League, I was more of a post player. I could handle [the ball], but I was mostly, like, a stretch 4, so when I would do certain moves, it would be [about] power or my second jump. So my first shoe was designed on that. If you look at my second shoe, I started handling the ball more, so it was about containment of power while still being able to have finesse. The third one, I think—I'm sorry, I know—that the third one represents who I am and what my game is like."
In an early meeting about the Zion 3 almost two years ago, Williamson opened up to the Jordan team about a piece of his story that had yet to be fully explored through his line. His path to the NBA, Zion explained, is often misconstrued as having been easy, largely due to his athletic gifts and ridiculous highlight tapes.
"He talked about how people think that it's just been sweet," says Jarrett Mann, Jordan Brand Global Product Director of Performance Footwear. "They think that he was an overnight sensation—that he basically came on the scene as a 16-year-old YouTube phenom, and it was dunks and blocks and he was the highest sought-after recruit since LeBron [James]. But he talked a lot about coming to that moment."
It was far from easy, Williamson stressed. 
I'm gonna shock the world. Y'all just gotta wait.

– Zion Williamson tells SLAMKicks
As a kid growing up in Florence, SC—not exactly known as a hotbed for basketball—he had to get it out the mud. "A lot of people where I'm from, when you talk about making it out, it's not just basketball we're using," says Zion. "We're just trying to make it out in any way."
By the age of 9, Williamson was waking up at 5 a.m. every day to train with his stepfather (in the South, it's wise to beat the blistering sun). Coming from a state with so few NBA players, he struggled with self-doubt. "I would always just kind of have in my mind, I'm not gonna make it, I don't think I'm gonna do it," he says. "That way, if something went wrong—like I heard in all the stories growing up—then I wouldn't feel as bad about it. I always had self-doubt, but the older I got and the more I trusted my game and trusted who I was—who I am—the doubt has been erased."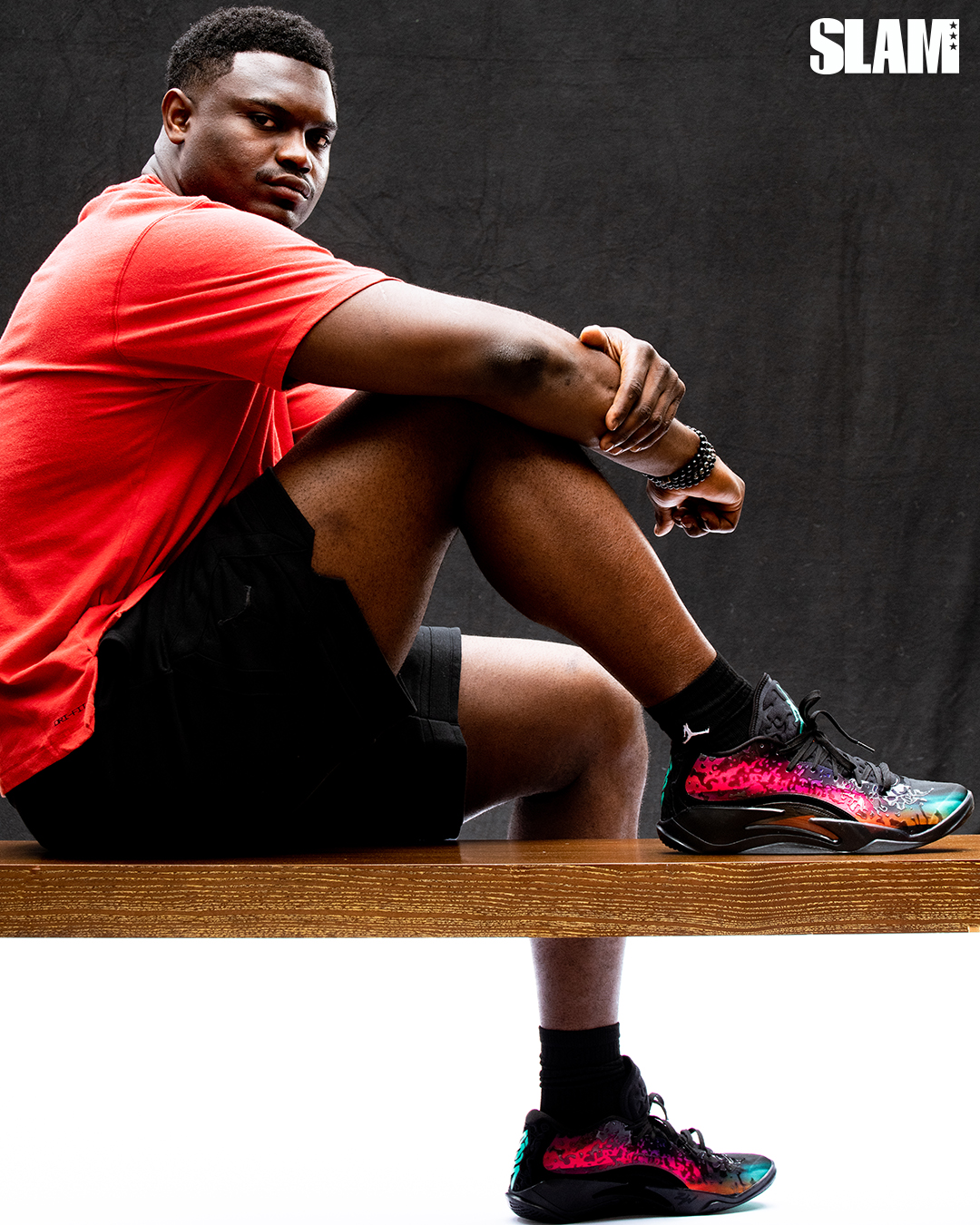 The Zion 3 was structured to communicate this lesser-told part of Williamson's past, and the "out the mud" mentality it cultivated in him. Joël Greenspan, Jordan Brand Senior Designer of Performance Footwear, worked with a computational designer to simulate the visual effect of Zion's foot last launching through mud (they went as far as to study different viscosities and the mud specific to South Carolina). It wasn't just about creating a color-splatter design on the upper; the Jordan team also sought to make the mud a useful component of the shoe.
"The mud is a metaphor. It's the hardship, the difficult times that Zion had to go through," says Greenspan. "It's therefore the thing that made him strong. We knew immediately that we had this idea of mud to armor. We wanted the mud to be the thing that makes the shoe strong."
The solution? Haptic ink—a special kind of screen print previously used on Nike's Metcon silhouettes, which are, according to Expert Material Designer of Performance Footwear Jacqueline Lefferts, "the only shoes where people can climb up a rope without holes being burnt through them." The haptic ink provides extra reinforcement and containment in stress areas. "I guess the process was really, How do we tell this narrative in a beautiful way but still make it performance enhancing?" Lefferts says. In addition to the ink, the shoe features a Formula 23 drop-in midsole for enhanced court feel and a Zoom Air bag for crash protection. Williamson's "Zion" logo is displayed prominently on the heel.
Of course, the man behind that logo hopes that his new sneaker gives others the confidence to overcome their own uphill battles—to make it out the mud, just as he did. "No matter where you're from, no matter what situation you're in, no matter how bad things are looking, no matter how good things are looking—when you put the [Zion 3] on, you should feel that you can literally do anything," he says. "Whatever your aspirations are, with the Zion 3 on, you got a chance. That's what I want people to feel."
That's what Williamson will feel when he laces up the Zion 3 this upcoming season. "One of my favorite things [about the shoe]—you can zoom in on that," he tells us, flipping up the tongue to reveal three words printed on the inside: Shock the World. "I still stand on that. I'm gonna shock the world. Y'all just gotta wait."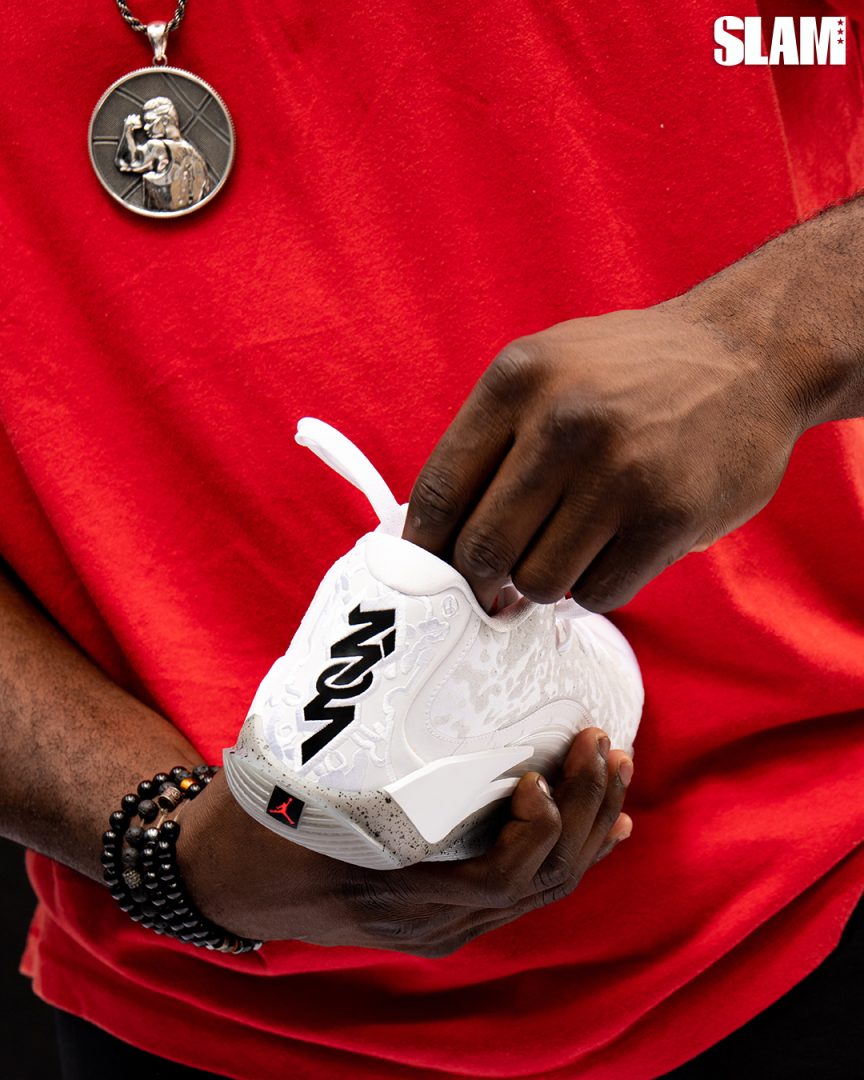 ---
"I would say of our portfolio of athletes, in terms of just chapters of life, [Luka] has the most unique journey to him arriving at where he is," Amy says.
That journey spans thousands of miles, beginning in the beautiful city of Ljubljana, Slovenia, where Doncic—Jordan Brand's first European born-and-raised signature athlete—grew up. His father, Sasa, played professional ball for several years, and Luka fell in love with the game right away. "I was basically with basketball my whole life," he says. "My father was playing and I was always with a ball in my hands, always at his games. So I was just connected to basketball."
He had a natural feel for the sport and played whenever and wherever he could, flocking to an outdoor court every day after school. By the time he was 8, Doncic was already running with a group of 12- to 14-year-olds. "It all just came naturally," he says. "I always played with older guys and then I could learn a lot from them."
At 13, Doncic was offered a five-year contract by Real Madrid. Accepting the deal meant leaving his family and friends behind and moving to a country where he didn't even speak the native language. "It was tough. At first it was a for sure no," he admits. "I didn't want to go." But Doncic eventually decided to make the leap, determined to continue chasing his NBA dream. He picked up Spanish in just three months and blossomed on the court, earning numerous Liga ACB honors and winning EuroLeague MVP for a championship squad in 2018.
Doncic developed a unique skill set while competing overseas. The court is smaller and there's no defensive three seconds in the international game, shrinking the space that players have to operate. Doncic had to focus on how to create space, despite not being the most athletic player in the league. The result? A combination of footwork, vision and balance that is one of one—and makes the task of designing his signature line extremely challenging.
"With the Luka franchise in general, we have an athlete who really gives us some very unique problems to solve," says Chad Troyer, Jordan Brand Global Senior Product Line Manager of Performance Footwear.
Problems like, How do we account for Doncic's elite step-back? Answer: the IsoPlate, an innovation built exclusively for Luka that wraps up the medial and lateral forefoot and secures the foot when shifting from front to back.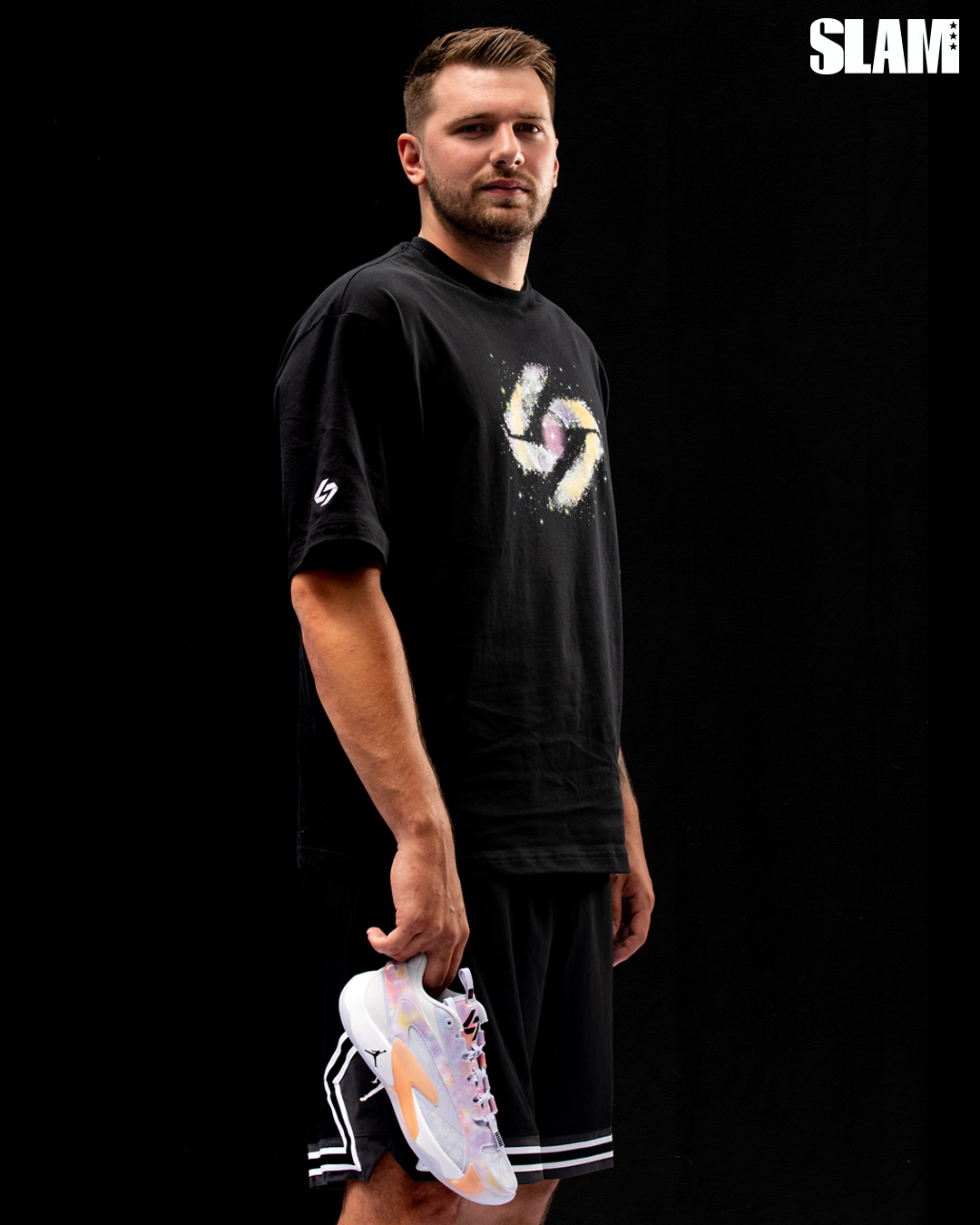 Informed by meetings with the Mavericks training staff and additional insights from Doncic, the Luka 2 combines the IsoPlate and full-length Formula 23 with a new medial Cushlon 3.0 wedge foam to keep Luka's foot in control and propel him out of his moves, facilitating even more separation between him and his defenders. "It's always going to be about space creation for Luka," says Greenspan.
Colorways of the Luka 2 celebrate the many chapters of Doncic's life. The "Lake Bled" is a nod to the scenic body of water in Luka's hometown in Slovenia—"I think it's one of the most beautiful places not only in Slovenia, but in the world," Doncic says—and the teal-based "Matador" is inspired by his pro career in Madrid.
"Luka has taken the world by storm, with kids all over the globe from every different kind of culture," Troyer stresses. Those kids, from as far away as Slovenia and Madrid, can look at Doncic's story as proof that your dreams are never too far-fetched. That it's possible to make it all the way to the NBA if you chase that ambition just as Doncic did.
"It's up to us as a Brand to be able to dig deeper on those stories and educate our consumer on who Luka is as a person," adds Amy, "and how he got from point A to point B."
Truth is, there was no magic formula—just hard work, a lot of sacrifice and a real passion for the game. "Ljubzen" ("Love" in Slovenian) is printed on the top eyelet of the Luka 2, and the words "NON DESISTAS" and "NON EXIERIS" are featured on the heel of each shoe respectively, which translates from Latin to "Never give up, never surrender."
"It was tough leaving Slovenia and moving to Madrid when I was 13. But looking back, I think that experience pushed me to where I am today," Doncic reflected upon the 2's release. "I hope my journey, from a kid in Slovenia dreaming of playing in the NBA, can inspire people everywhere to go after their dreams and stay true to themselves no matter what."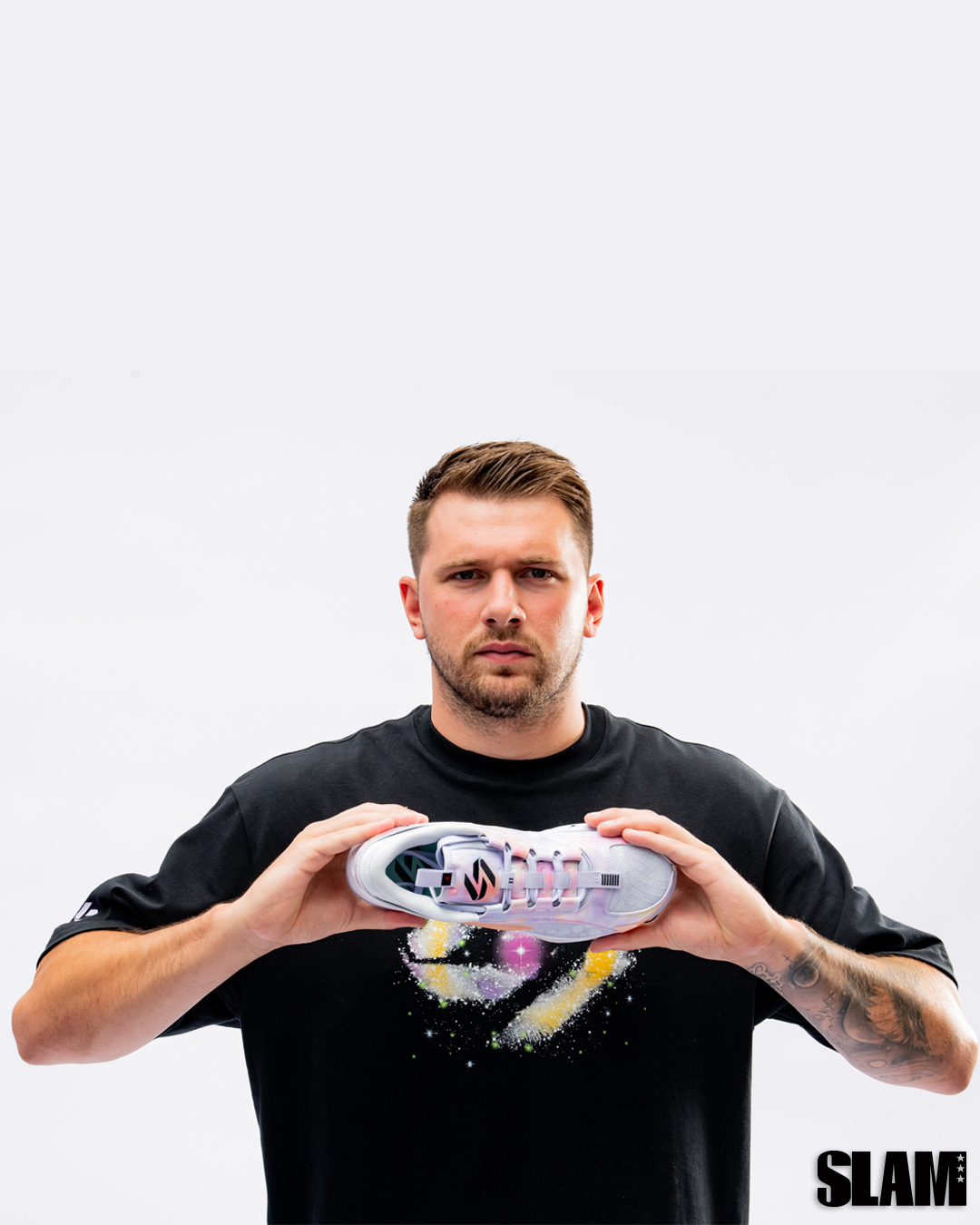 ---
It was June 2020, and Jayson Tatum was chatting over Zoom with his team at Jordan. That's when they suddenly dropped the news on him: the Brand was giving him a signature. And Tatum…barely reacted. He froze—not on Zoom, in real life. He was in complete shock. It wasn't until the design process kicked off that it really began to sink in. This is actually happening. This is my dream.
During those early brainstorms, Tatum expressed his preference that his signature be lightweight and feel connected to his foot in a way that was second nature. "As a basketball player, you don't want to think about the shoe when you're playing," he explains. "You just want to lace your shoes up and go play the game. That level of comfort and trust in a way from your sneaker allows you to be yourself."
The eventual product—the Tatum 1—is the lightest sneaker in Jordan Brand's performance line. "That's what we tried to target first and foremost," says Derek Foster, Global Product Line Manager of Performance Footwear. "And then, within that, we were just really trying to nail down some of the attributes that relate to Jayson. We looked at his biomechanics and the way he plays—he's a very forefoot-dominant athlete."
Designers were able to remove weight while still maintaining a strong TPU frame that supports Tatum's side-to-side movements—as does the outsole, which implements a plate technology. An uncaged Zoom Air bag is included in the forefoot, allowing Tatum to play efficiently on his toes just the way he likes.
Aside from the sneaker's functionality, Tatum emphasized the importance of the Tatum 1 being for kids, not just for him. He prioritized creating a kids-specific design that utilizes an innovative tailgate system for easy entry. His son's nickname, Deuce, is also featured on the inside of the tongue of three of the first four colorways. "[Deuce] challenges me to be a better person, because I always know that he is watching everything that I do," Jayson says. "He's inspired me to be a better man, to be a better role model, to be a better basketball player."
"What [Tatum] brought to the table, what felt important to him, was to be about the future—to inspire kids," says Bryant Klug, Jordan Brand Expert Designer of Performance Footwear. "He isn't treating it like a scrapbook of all his own details—we have some of that stuff on the shoe, but he always talked about it, like, who it was for. And it was always for other people."
There are two things that I've kind of always lived by. [One], you can never dream too big…

Another thing that goes hand in hand with that is, the bigger you dream, the harder you have to work.

– Jayson Tatum
Those details—like the coordinates of St. Louis and the words "I Just Didn't Quit" (inspired by a Nipsey Hussle quote) on the TPU piece of the outsole, as well as "Living Proof" on the outer part of the rubber—reflect his own journey, for sure, but with the intent of influencing the next Jayson Tatum. They tell the story of a kid from the Midwest—raised in a city that, like Williamson's hometown, isn't known for basketball—working tirelessly to reach the NBA. His head coach at Chaminade HS, Frank Bennett, insists Tatum took just two days off during his four years there—the two days following their state championship victory his senior season.
"There are two things that I've kind of always lived by," Tatum says. "[One], you can never dream too big. I grew up in St. Louis. My mom lived check to check—she was 19 when she had me. We're not supposed to be here. I had dozens of people when I was younger tell me that I should choose a different dream or another profession—you know, something more realistic. But another thing that goes hand in hand with that is, the bigger you dream, the harder you have to work. And I was never going to let anybody outwork me."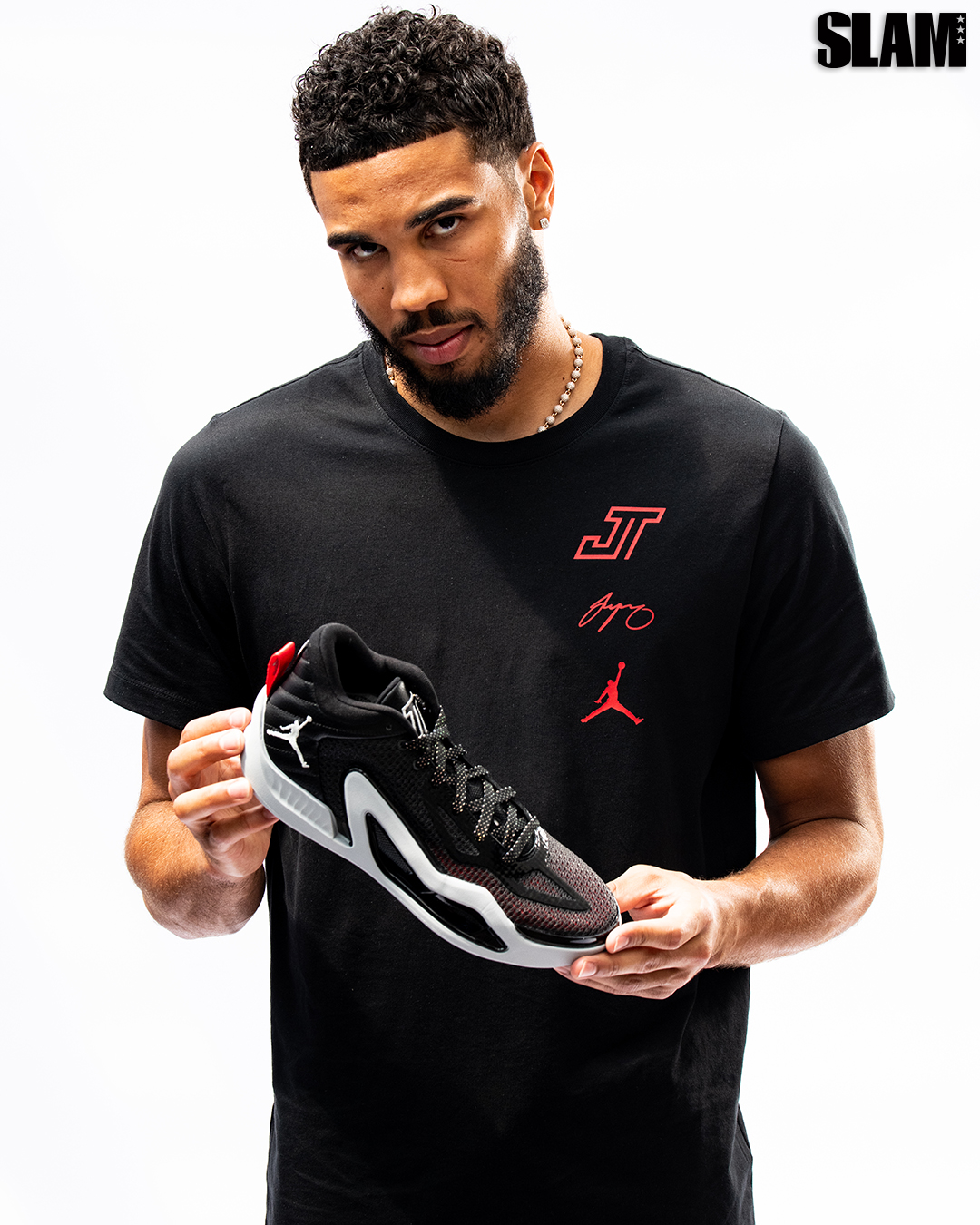 As a young boy, Tatum looked up to Kobe Bryant. He had on "What The" Kobe 9s in the state title game as a senior and rocked the "Prelude" colorways of the Kobe 5 and 6 when he played on the EYBL circuit. He was inspired by the Mamba's blueprint. Now Tatum is the one setting his own blueprint, and he has a brand-new canvas with which to convey it.
"I know firsthand the influence that you can have on somebody without ever knowing them or meeting them," Tatum says, reflecting on the impact that Bryant—all the way out in Los Angeles—had on him in St. Louis.
"So I understand the responsibility that I have, with the platform that I have, to inspire the next generation, whether they want to be a basketball player or the best doctor in the world—whatever it is, just to inspire somebody."
---
Portraits by Alex Woodhouse.