There are arguably very few fathers and son duos that are as successful as Stephen Curry and Dell Curry. Steph is undoubtedly one of the greatest ever to lace them up and Dell is a Charlotte Hornets legend. It was Dell who got Steph interested in basketball and he used to often bring him to his games. And now Steph and his son Canon have recreated an iconic photo of him and his dad at a game.
Ever since Steph made it to the NBA, his father has always been there for him. Dell was also a great three-point shooter and shot over 40% from three in his career. But Steph took it to the next level with his shooting. He arguably revolutionized the game of basketball and is the pioneer of the three-point revolution.
ADVERTISEMENT
Article continues below this ad
A photo of Stephen Curry with his dad and his son has gone viral
Just like his dad used to get him, Stephen Curry now also gets his son to his games. Canon is seen cheering his father on and he has had some viral moments with Steph as well. This year, he gave Steph his All-Star ring, and he didn't want to leave the court after that. He is often seen playing with a basketball at the Chase Center.
DIVE DEEPER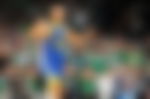 A photo of young Curry with his dad has been on the net for some time now. And now a photo of Steph with his son, Canon in a similar position seemed to have recreated it. Both Steph and Canon are sitting on their dad's lap and are seen to be waving.
And this seems to almost complete an entire cycle in Stephen Curry's basketball life.
ADVERTISEMENT
Article continues below this ad
Stephen Curry had been coming to the NBA since he was a kid. And he worked hard and got into the league. Then he became a superstar and changed the game of basketball forever.
ADVERTISEMENT
Article continues below this ad
WATCH THIS STORY: Is Stephen Curry a billionaire?
What do you think of the two photos? Do you think we will see a third-generation Curry in the NBA one day? Let us know your thoughts in the comments below.