This cover story appears in KICKS 26. Shop now.
"My life always revolved around basketball since I gained my first thoughts," P.J. Tucker says. "My mom put a ball in my hand at 3 or 4 years old. It was a Michael Jordan basketball goal with the backboard. I just remember being in Germany and playing and the joy that playing basketball has brought me for 34 or 35 years. If somebody could see it through my eyes, the love and joy for the game and everything that kinda revolves and shapes the game…The game has been my life since I can remember, and that love and joy for it—just playing basketball—would be so crystal clear to people of why I play like I play and why I do what I do."
P.J. Tucker is not the Sneaker King.
P.J. Tucker is a basketball player who loves sneakers. But he is not defined by sneakers. 
He is defined by passion. 
P.J. Tucker loves basketball. He loves everything that comes with it, too. But he does not love all of it more than he loves the game of basketball. 
A scorching hot day at The Better Generation in Houston is the backdrop for Tucker's long-overdue KICKS cover shoot. There is a big picture to capture here. TBG is the sneaker store he co-founded and co-owns with Brandon Davis. We've shut it down for the day so that a Bentley Continental GT V8 could roll into the store's front yard. 
Tucker knows cars, planes and trains very well. He's hooped all over the globe. The son of Raleigh, NC, has played for six NBA teams. Though he was the 35th overall pick in 2006, he didn't find a steady job in the League until 2012. Those years in between were spent playing overseas. 
As a world traveler, he has many stories to tell. Much to his delight, we give him a task to sketch out the connection between stories, hoops and sneakers. P.J. excitedly maps out his basketball career by highlighting the sneakers he most associates with each stop on his worldwide tour. 
Raleigh, NC, Enloe High School Eagles, Class of '03
"Space Jam" Air Jordan XI
"Ohhhhh, I got my 'Space Jams' on going to New Bern Cook Out. We have a game that night. After the game, we go to Sheryl's where the party's at. It's a hair and barbershop school. The lady's [who owns it] son is our age and he threw parties, and he threw them at his mom's spot. And then afterward, we going to Cook Out on the way home. My order, back then, I was all about the grilled chicken tray. Cajun grilled chicken sandwich. Lettuce, tomato, pickle, onion, cajun fries."
Austin, TX, University of Texas Longhorns, 2003-06
Reebok S. Carter 
"I was coming with it in Austin. In Austin I'm rocking the Sean Carter Reeboks. 'S. Dots' with a polo and jeans on. Killing them. You know they was a [size] 40, bro. You know they was a 40 with a belt. We're going to The Drink. The Drink is the spot, that's the stomping ground. Me, Vince Young and the crew. Everybody knows the basketball players and football players were at The Drink. The line is around the corner. You're not getting in. We walking straight in, straight to the upstairs and it's shut down. It's over. We ain't dropping a dime. Behind the bar pouring, bro…that's different. Hook 'em."
Greektown, Toronto, Ontario, Toronto Raptors, 2006-07 
"Brown Crocodile" Nike Air Force 1 Low
"Toronto, we're going to Cactus Club. Vibes. I got on the 'Brown Crocodile' Air Force 1s. Yes, I got those on for sure. 100 percent. 100 percent. Oh my God. I had just started getting NBA checks. Them joints was $1,500, bro, retail. $1,500? In '06? Cactus Club is a vibe, bro. It's a restaurant-turned-speakeasy type. It's four levels, [with] a rooftop…The lights on, going crazy, going crazy. You getting me hype over here." 
Broomfield, CO, Colorado 14ers [D-League], 2006-07
Nike Air Force 1 Low 
"I was rocking all white Air Force 1s and I took no good clothes. It was, like, team sweats. I was out of my body because I really, like…it was probably one of the lowest points of my life when they sent me down. Oh man, it was bad. My swag was at an all-time low in Broomfield, Colorado."
Holon, Israel, Hapoel Holon Tigers, 2007-08
Nike Air Yeezy 1 & Nike Air Huarache 2K8
"Finals MVP, a championship. Knocked off Maccabi for the first time in 30 years. Going crazy. One of my favorite years—entirely—in my career, NBA included. Top three for sure. But that was 2007-08. You know what dropped in '08? They came out in Tel Aviv. If you don't know what they is, [in] 2008, Kanye West released a shoe. That's all I can tell you. He released a shoe. Oh man. I got them in Tel Aviv, dog. In Tel Aviv. I got two colorways in Tel Aviv. I got the gray and the tan. That was a year, dog. Happiness, playing basketball again. Because Toronto was a total…Toronto tore me down, and Tel Aviv brought me right back. Back falling in love with the game because I was able to play [again]. I only played 17 games in Toronto. That's why my number is 17. So, it was like Tel Aviv brought me life back. And then I didn't realize how much fun I was going to have playing in Europe. And it was like, Oh yeah, this is it. Listen. Huarache '08. Top five basketball shoes ever to me. The white/blue/green pair. Oh my God. That year I hooped in those all year."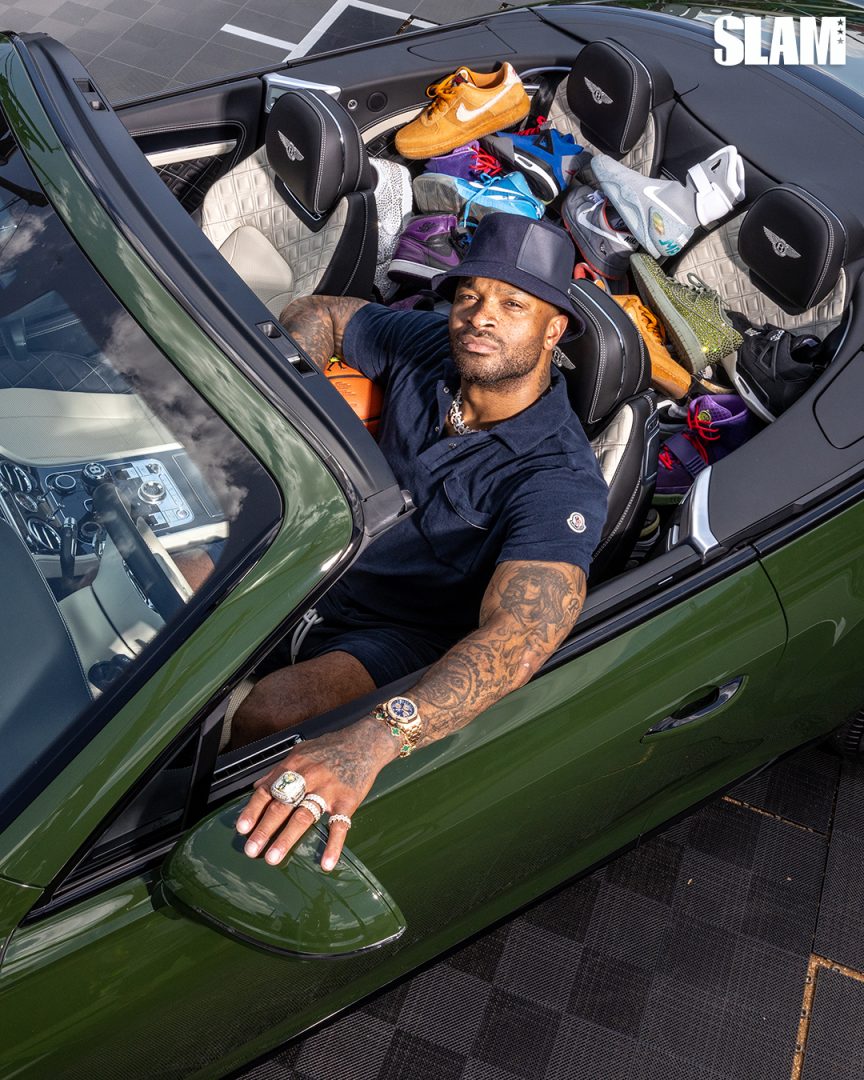 Donetsk, Ukraine, BC Donetsk Tigers, 2008-10
Louis Vuitton Jaspers 
"I got the Louis. They just came out. The all white on white, the black high top, the gray with the pink bottom. I got all three in Kiev, Ukraine. All three. Walked right in the store. They was just right there. I need a 12. LV 12. [They reply] One second. All three pair. Oh my God. Mind you, I'm paying a lot more because the euro was kicking the shit out of the dollar back then. So we used to get paid and be like, Yo, give me some euros and…ah, it was bad. But it didn't matter. They had all three in store. It was crazy. By myself. In Ukraine they speak no English. I had a translator that was with me, like, 80 percent of the time that the team paid for because nobody spoke English. And a driver and all that. But sometimes we landed in a city, like, good cities, I just dip out, all the good cities, and go shopping. It's what I do. That's like prime [Kobe] because Ukraine was Kobe 3 and 4. Ukraine was all Kobe for me. It was nothing else. Like, iDs crazy. Those were the years of iD crazy. And this is the most money I've ever made. I'm getting, like, $800,000 a year tax free. We're going crazy. So I'm buying 10 pair of iDs at a time. You got nothing to do in Ukraine, so I'm just on my laptop making iDs, sending them to my mom's house. My mom boxing them up, putting my cereal boxes [in them], my little stuff for me to eat and sending boxes at a time. Oh, the care packages are footwear. The food is additional. Throw some Cinnamon Toast Crunch in there for me, you know what I'm saying?"
Herzliya, Israel, Bnei Herzliya Basket, 2010
Nike Kobe 4
"Herzliya is crazy. We're going to Herzliya Mall. Herzliya is on the water. They got the mall on the water. The mall is literally on the beach. Incredible. They had a Nike Store. You already know…"
Thessaloniki, Greece, Aris Basketball Club, 2010-11
Nike Kobe 5 
"Me and Bobby Brown used to go crazy at Thessaloniki. Kobe 5 year for sure. We had the all gold uniforms and that year the white/gold/black 5s [came out]. Had about 20 pairs of those. And just ran through those. Ran through 'em. Because everywhere you go, you gotta think, like, we got to Athens, Go to Nike Store. They got stores here? We go to the store. They got my size, I'm buying it every time. That way you can have them on time. Playing in your league, like, playing in Barcelona, Moscow. Nike stores. All these prime Kobe years, though, are the easiest because…making all those iDs to match the uniforms, shit used to be fun."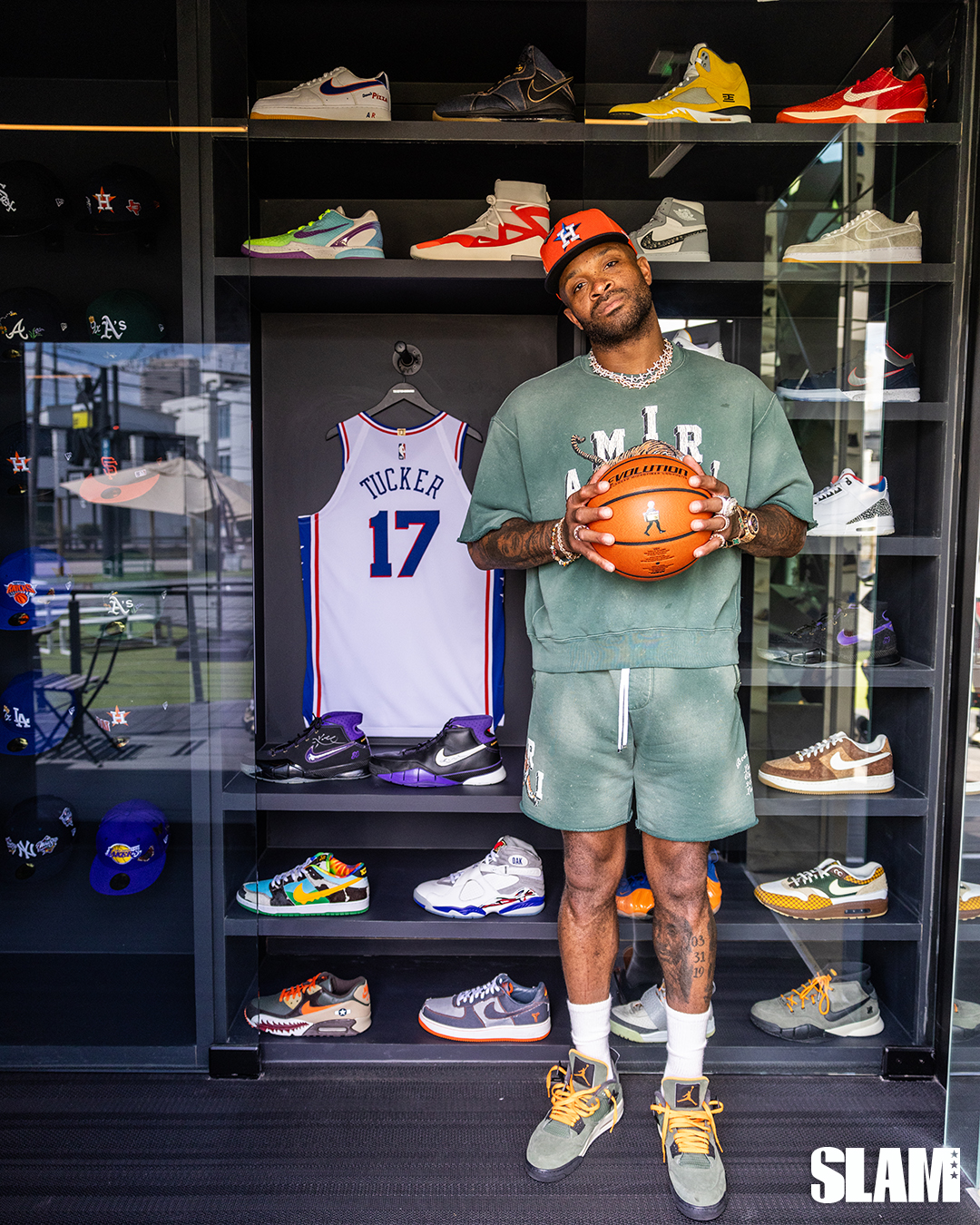 Quebradillas, Puerto Rico, Piratas de Quebradillas, 2011
Nike Air Force 1 Low 
"We're going to Isabella Beach. That was heavy Air Force 1. Puerto Rico, my Air Force 1 game there was crazy. Every day, Air Forced out. I've always been a big, big Air Force 1 [fan]. Where I'm from, that's, like, the No. 1 shoe. You know the beach, all white on whites. It was a clean, fresh pair. That was all about that."
Montegranaro, Italy, Sutor Basket Montegranaro, 2011
Nike Kobe 5 
"All Kobe. Italy was all Kobe."
Bamberg, Germany, Brose Bamberg, 2011-12
Nike Kobe 8 
"Alright, so Bamberg is Kobe 8 and I would say my No. 1 Kobe. Crazy, because at the time I thought the 8 was the best ever. I just went crazy with the Kobe 8. And our colors were red, gray, black and white. And the Kobe 8 was just so perfect for the iD, dog. We just went insane with those. When I think of that, other than winning MVP, winning championships and doing all that, it was like, yo, the Kobes that year were insane. Playing in EuroLeague that year, everybody was wearing Kobe 8s, bro. Even when I look at pictures from back then, everybody was wearing Kobe 8s. It was like Kobe took over the world that year with that shoe."
Phoenix, AZ, Phoenix Suns, 2012-17
"Olympic" Air Jordan VI and Amar'e Stoudemire Nike Air Max2 CB '94 PE 
"[I always ate at] Matt's Big Breakfast during the season in Phoenix. I was wearing a lot of heat during that time. That was the first big multi-year deal I signed. That was, like, filling in the blanks in my collection. I started getting a lot of stuff I wanted that I didn't have. I just started going crazy. There was a store in Phoenix that was unbelievable during that time. Pound For Pound. Jay [Gaspar] had a pair that he had signed for him. And I was like, Jay—Jay is the equipment manager for Phoenix. He's been there since he was, like, 6 years old. He was a ball boy at 6. He's an OG equipment manager. One of my favorite people in the world. He's the best. And he has Shaqs, Steve Nashs… And he has these white, gray and orange [Barkleys]. Ah, they're beautiful. With the S.T.A.T. on the side. So that was a mission of mine to find those and I did. And the black, purple and orange. And the all-purple."
Milwaukee, WI, Milwaukee Bucks, 2021
Nike Boots and Timberlands 
"Nah, listen, Steny's was the spot [where I hung out]. And they're big, big Milwaukee-everything fans. Milwaukee's a bar town so all those kinda dive bars, local people go there every day for their drink after work. It's that vibe of Milwaukee and why the love of Milwaukee is so crazy. Because these people are like, if they love you, they love you. I can't buy a drink there. And you know the wild part, when I go back, I'll sneak in and just surprise everybody. Like, all the locals, the people that go there every day. And it's still, like, same shit. It's dope."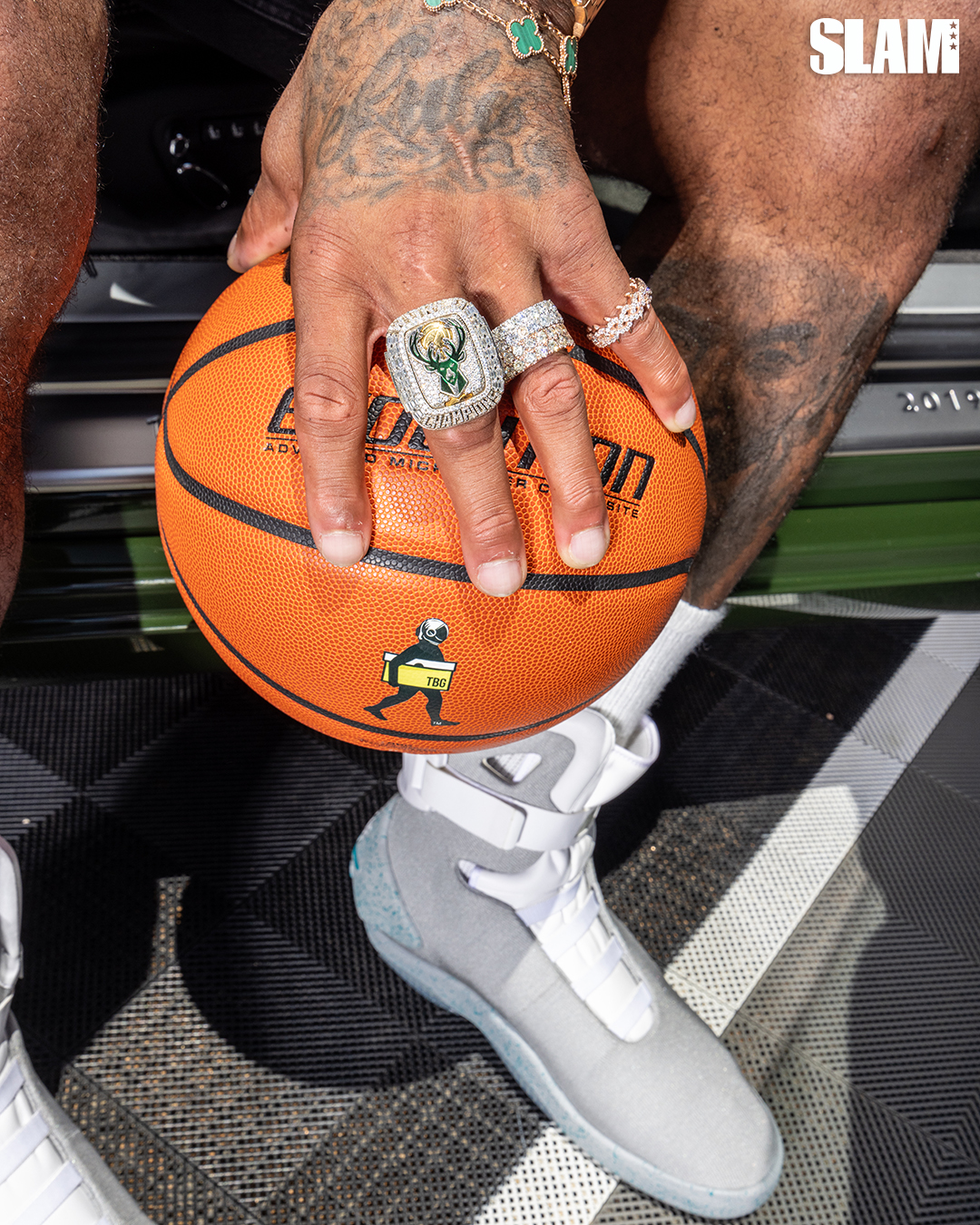 Miami, FL, Miami Heat, 2021-22
Nike Air Max 1 
"Here we go, here we go! I'm wearing heat in Miami. I'm wearing runners a lot in Miami. That's just kinda the vibe. The Air Max 98 or 95 with my little Nike running sets. It's so hot and chill. That's just the everyday kinda uniform. Tank top, running shorts, Air Maxes. That's just my everyday there. Air Max 1s. I would say Air Max 1s because that's my favorite Air Max ever, and I wore Air Max 1s to death in Miami."
Philadelphia, PA, Philadelphia 76ers, 2022-23
Air Jordan I 
"In Philly I wore a lot of Jordan Is, like, the normal brown Travis. I got a pair of '85s and '94s that I wear, the ones I wear wear. 'Chicagos' and 'Breds' both. And they're my go-to pairs. Every time I wear those shoes, I wear those pairs. Even though I got a lot of '85s and '94s. They're broken in perfect. They're super comfortable. They're, like, molded to my feet. They're my shoes. They're super worn down, but they look good."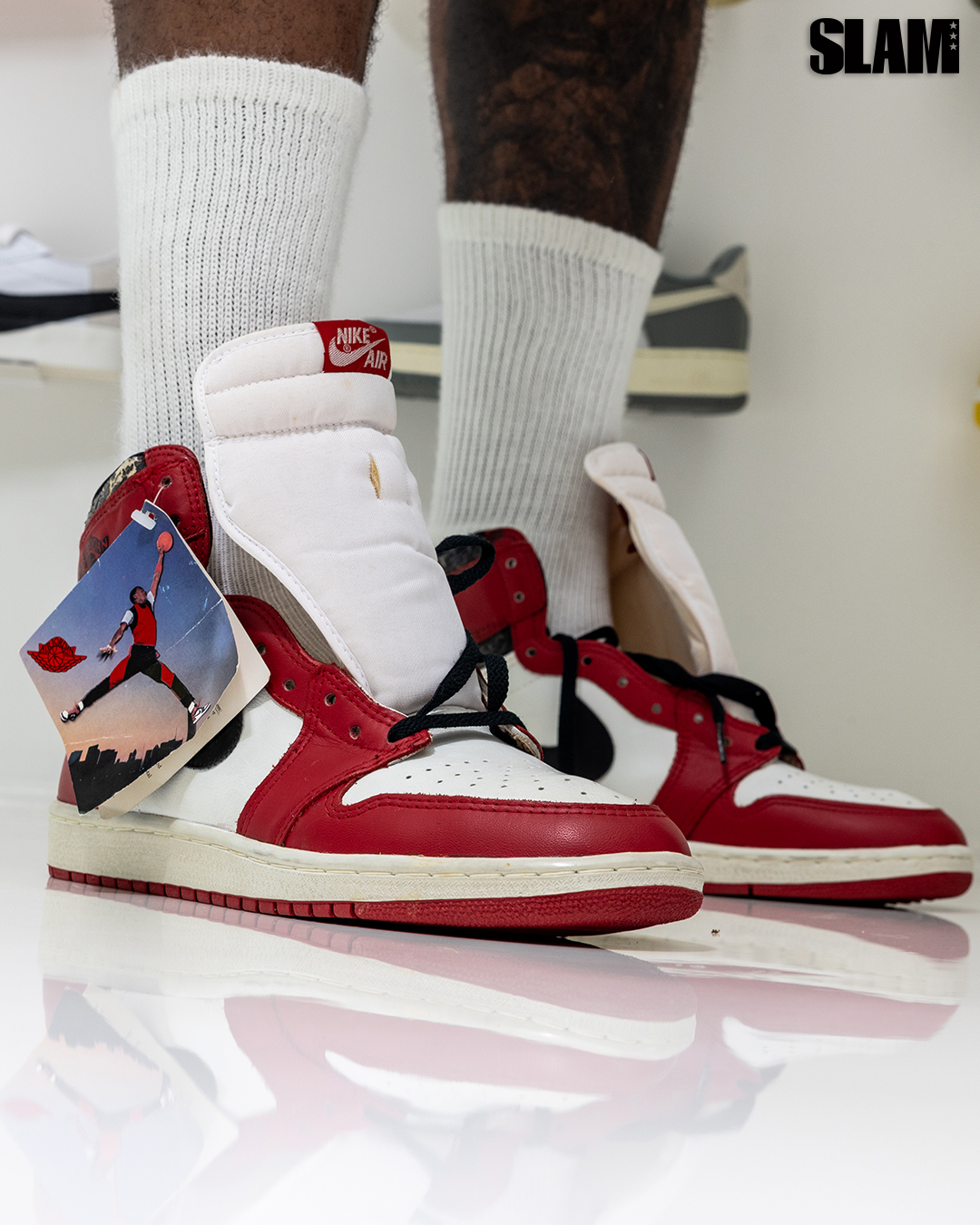 ---
The Better Generation is shaped like a container. It's a wide and narrow store. Walk in through the front door, turn left and P.J.'s section comes to life. A floor-to-ceiling display case of his Sixers jersey, game-worns and Kobe-signed pairs are the greeting. An impressively extensive collection of clothing follows. Two little seating pods close it out, resting underneath a "17" made out of moss. 
Seated under the 17, Tucker is fully engaged. He's talking sneakers in a way that he doesn't often get to talk sneakers. His high level of animation is a welcome surprise. He's having a good time. Why doesn't he share this side of himself more often?
"It's not that many that [have] really, really been in it and been doing it and really understand it," he says. "I almost tell them I don't want to talk about shoes anymore because they don't know. People don't know, right? I'm not mad at them, I'm just tired of answering the same questions. Sneaker King, how are you—blah. Like, bro, you have no idea what any of this is about."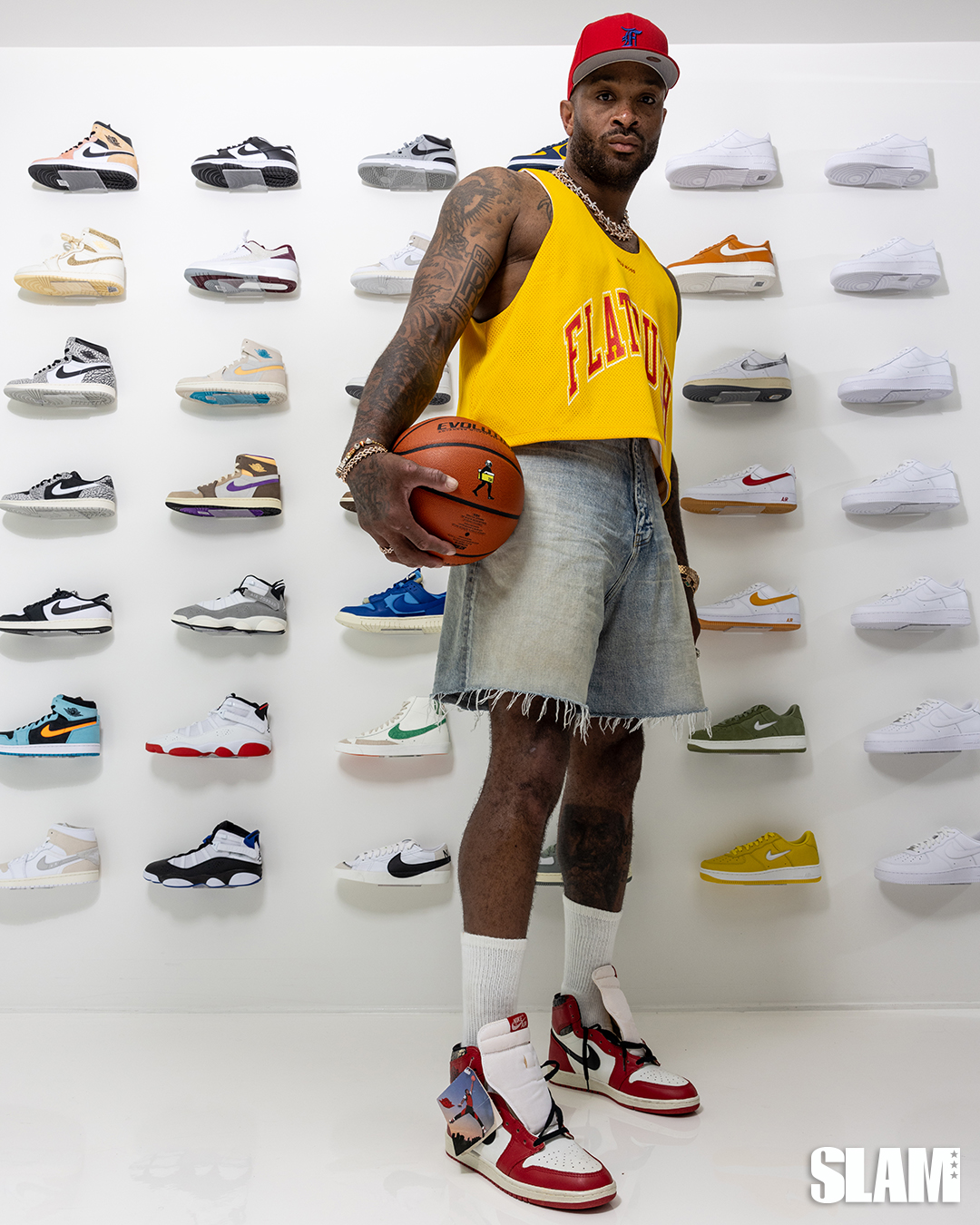 He details how there are so many people out there who view him as the "Sneaker King." They only know one thing about him. There's much more to him than sneakers. It's a constant in his life he can't escape. People expect the anointed Sneaker King to behave a certain way. He doesn't wear sneakers for the public's approval, though. He does it out of the love that's been mentioned. That love is threatened at all times by the uninitiated. His work to protect the pure nature of his passion is a daily commitment. 
"It gets ruined a lot," Tucker says about his passion for sneakers. "There's other things that bring it back. This [conversation] is bringing it back, 1000 percent. This is making me go back and think about my original love and why I do it and how it came to be. But even still, there are so many other things that tear it down and all the people that don't really love it. They just kill it and destroy it. But that's what makes me keep going, too. Regardless, I can't let them take the shine away from what we love. All the things that make it what it is. It's like, fuck that."
He rolled up to this shoot with approximately 30 pairs in two giant bags, including the famous 24-pair holder that longtime followers of P.J. will know. Time unfortunately ran out and not every pair could be photographed. They were all hitters. Every single pair. Hype and resell value all through the roof. That's not the best part. The best part is that all of them were worn. Every outsole showed clear signs of wear. And this is some stuff that's so nice that it's actually dumb. Dumb nice. Stupid nice. Crazy nice. 
"Kyle's Wedding" Kobe 4s. "Board of Governors" XVIs. "Cactus Jack" IVs. "Pigeon" Dunk Lows. The Mags on the cover. Dumb, stupid, crazy nice pairs that 99 percent of people would never even put down on a carpeted floor in their own house. But Tucker wears all of them. He wears many more, too. He spent a few minutes during the shoot showing off photos that aren't part of his Getty Images history, flicks from his days overseas. In real time, when the most hyped-up pairs of Kobe 4s-8s were getting released, he was playing in them. He wasn't holding them for later. He was making memories with them on his feet. Even while at Texas, there are photos of him hooping in Air Jordan XIVs, Nike Air Penny 4s and Air Jordan IIIs.
Footwear has always been about memories and stories for Tucker. He doesn't chase hype. He chases the indescribable feeling that sneakers give him. 
"It means something," he says. "It puts you in a place and a time. And it gives you that feeling. And that feeling, like, there is nothing like that. 
"I can't," he responds when asked to verbalize the sensation. "It's hard to put that feeling into words. It's one of those things that only you know in your heart, like, how that shit makes you feel. No one else will ever understand it."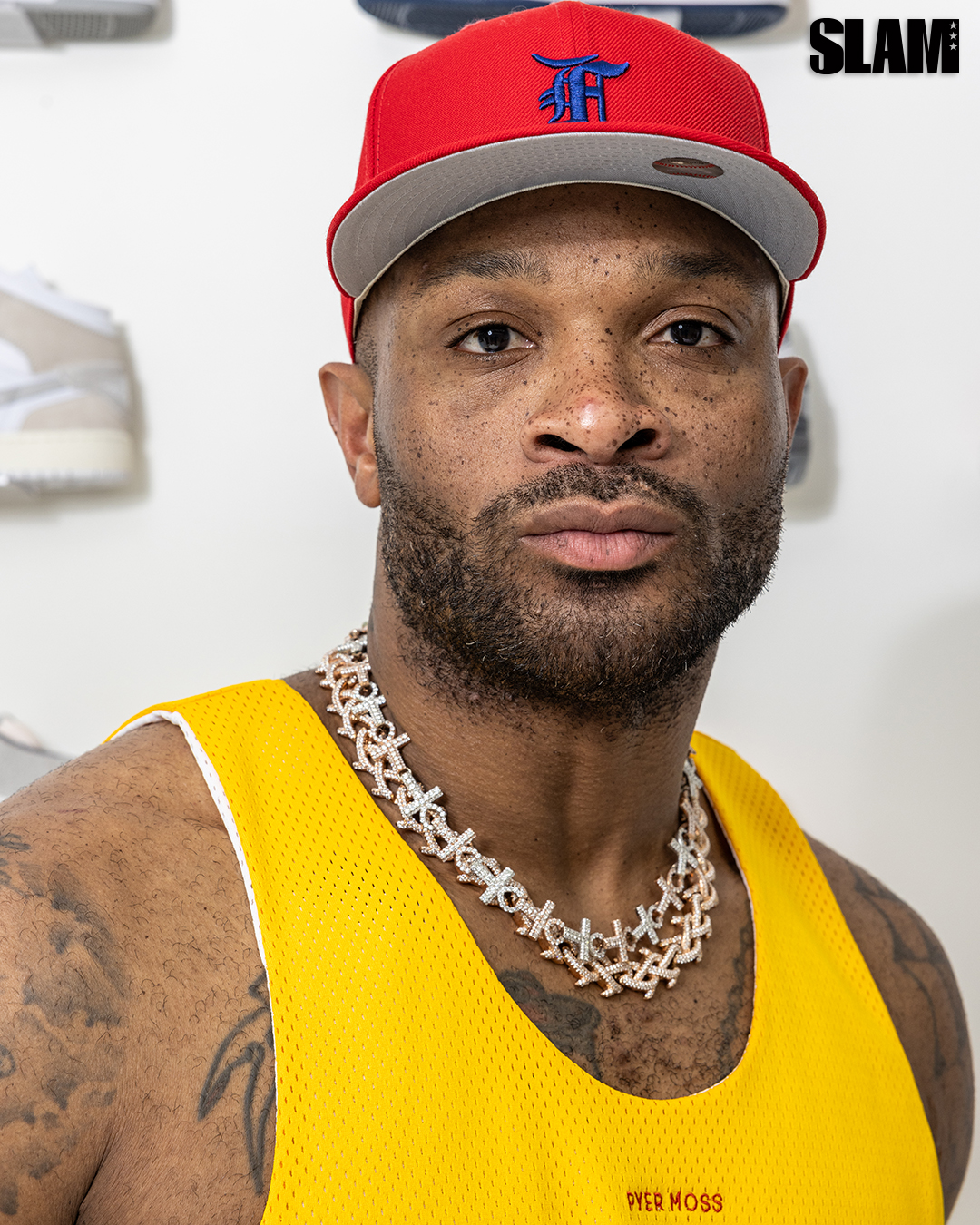 He's been communicating with everyone for years. What he's saying in this interview has been said without speaking many times before. There's another layer he mentioned about people not understanding him for who he is. Eagle-eyed Instagram followers will see beyond the sneakers and the cars and notice that a majority of Tucker's captions have to do with mental fortitude and emotional evolution. He's on a journey of betterment and the sneakers are part of it. 
"Sneakers help me emotionally through everything," Tucker says. "Just the love for shoes keeps my mind off of a lot of bullshit that I could be thinking about and dealing with. The love and the job, especially now just because we got so much going on within sneakers, culture, fashion and everything. It's something that gives my mind a break off of everything else that's going on around me. And I think different people have different things in their lives that, over years, they kind of figure [themselves] out, you know, things that make you happy. You know, you build a garden in your backyard, whatever it is. Wednesday night bowling with your boys. Everybody has something, and sneakers [have] always been my kind of release of everything where it's just natural and I just love it."
There is an intensely deep connection that Tucker feels with the game and with what surrounds the game, including sneakers. And then there's basketball itself. 
Tucker's career arc hasn't been easy. He was a beast at Enloe High, a man playing against little boys. He averaged more than 16 points a game in his junior year at Texas. He was a scorer while he was on the way up the ranks. But then he had to switch it all up. Like he said, the Raptors humbled him as a young pro. When he went over to Europe, he was a scorer again. He was a Finals MVP, a champion, a go-to guy. The man. But his goal was to make it back to the NBA. Change was nonstop. He had to continue to adapt.
Always evolving.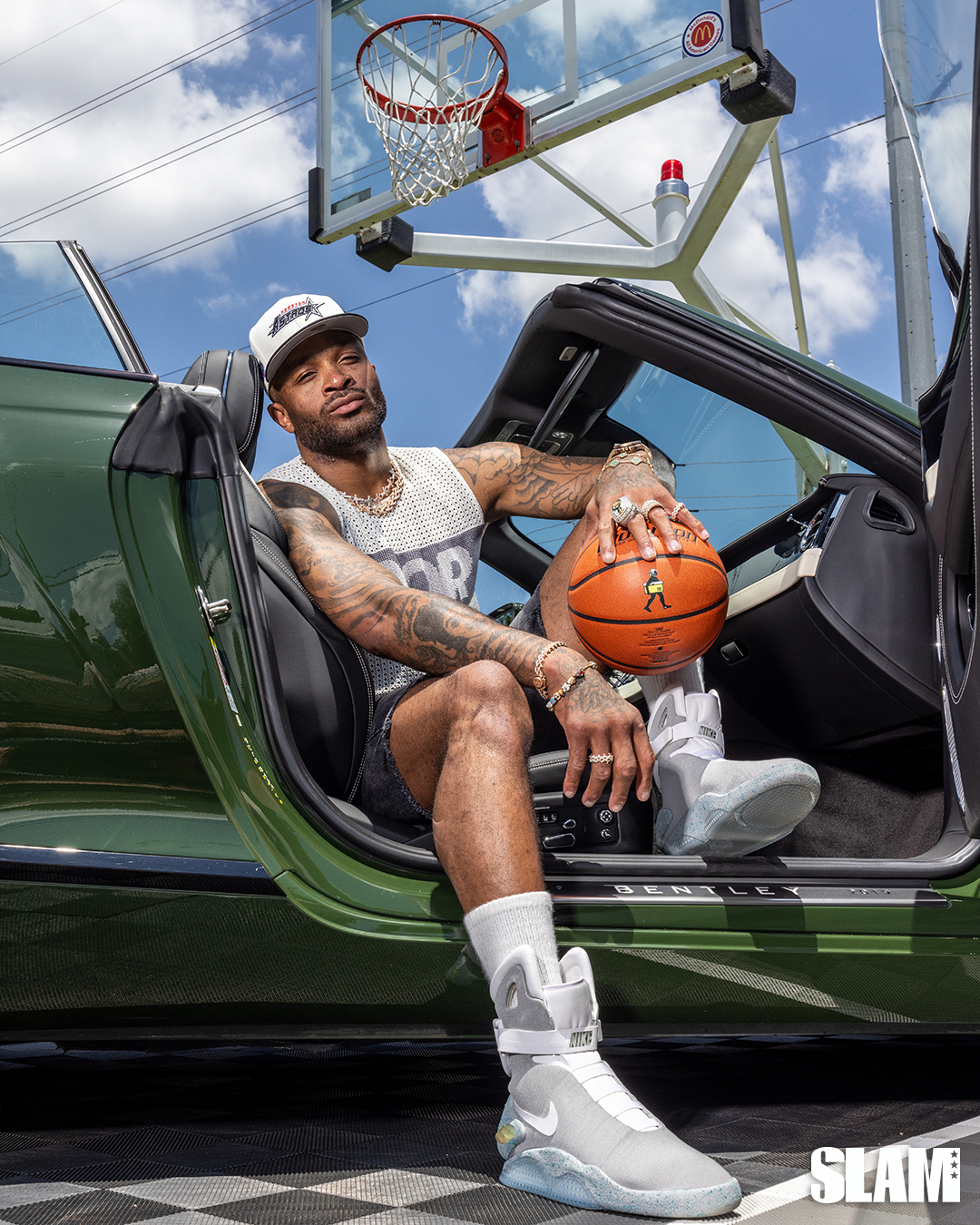 At this point in 2023, his reputation as an NBA player was set in stone a long time ago. It's a beautiful role. The 38-year-old is the last of a breed that went extinct a long time ago. He will do whatever is needed to win. Nothing better illustrates his desire for glory than Game 6 of the 2021 Finals. He played 36 minutes of extremely physical hoops and only took one shot. But his effort didn't diminish at all. He had the best plus-minus of anyone in that game. Defense, hustle, energy, heart—raw passion. Good luck finding anyone else in the League right now whose effort wouldn't go down if they couldn't shoot the ball. Passion is the only way that a performance like that is possible. 
"[Desire to win] kind of built, even though I've always been like that, it made it through the roof of honesty with myself," Tucker says. "With the 'humble, hungry,' like, all that. But it's more understanding self. Understanding success, what it takes to be successful and how much you'd rather win than have individual success. Then once you figure out that people care about winners and not actual people, then that changes your whole trajectory, too. Everybody wants to win, but everybody wants to win the way that they want to win. They want to win being the man. They want to win with everybody saying their name. They want to win with everybody showing their highlights on ESPN and their friends being all happy, that kind of thing. But who wants to just fucking win, right? Who is like, I just want to win! I want to stand at the top of the mountain no matter what my stats are, no matter what happens. It ain't a lot. I'll tell you that right now. And to change your whole shit to be one of those people to not really care, to not care…Just to win."
He says that things started to click for him when he made it back home from his overseas adventures. 
"There, I was the man," he says about playing abroad. "I'm the guy, right? But then that's how I learned to be a role player in the NBA. From being the man in Europe, I learned to be a role player because I know what I needed. I know what I needed guys to do. In Israel, I had my boy Chris Watson. Every rebound, he's running down 50-50 balls. I can count on him. I knew what I was going to get from him. But it's the self reflection of I'm not him and I'm not trying to be him. I'm not trying to fight him for a position. I don't want to be James Harden. I'm P.J. What do you need me to do for you to be successful for us to win? I'm P.J. and I'm fucking the best P.J. there is in this fucking game. And nobody can do what I do on a nightly basis."
His playing style and his playing style are both completely unique. And passion for both games drives it all.
"My love for basketball created my love for sneakers," Tucker says. "I didn't just [say] like, Oh, I like shoes. My first pair of shoes ever was a pair of Jordan Is in '85. That was my mom. I didn't pick that. But I did watch Michael Jordan and fall in love with the game and love what he was wearing. Then from that it was like…boom." 
---
Portraits by Atiba Jefferson.