Unless you're an NBA junkie, you're excused if you're not
familiar with Omer Yurtseven… for now.
Yurtseven is a 24-year-old big man entering his sophomore season
in the NBA. He went undrafted in 2020 after playing three college
seasons — two at NC State and one at Georgetown — but signed an
Exhibit 10 contract with Oklahoma City before the 2020-21 season.
During that campaign, Yurtseven averaged 15.2 points and 9.3
rebounds in 21.1 minutes per game with the OKC Blue, the Thunder's
G League affiliate, and caught the eye of decision-makers at the
next level — particularly in South Beach.
In May 2021, Yurtseven signed a deal with the Miami Heat before
the end of the season and inked a standard multi-year contract with
the team before the 2021-22 campaign.
Though he hadn't yet secured a significant spot in the Heat's
rotation, the rookie big man stepped up in the winter months
when Miami needed him most last year.
His coming out party was on Dec. 26 against the Orlando Magic, a
night where he scored 16 points and collected 15 rebounds in 33
minutes — the first double-double of his career.
The momentum only continued from there.
In January 2022, Yurtseven nearly averaged a double-double (10.6
points, 9.9 rebounds) in over 22 minutes per contest. That stretch
included a 22-point, 16-board performance in Sacramento, and, most
impressively, going toe-to-toe with Joel Embiid and the
Philadelphia 76ers; Yurtseven produced 22 points and 11 rebounds in
a starting role for his eighth double-double in 10 games.
Yurtseven only received spot minutes following that contest, in
both the regular season and the playoffs. However, that winter
stretch taught him quite a bit about NBA bigs.
"Going against bigs like Joel Embiid, [Jusuf] Nurkic — those
heavy hitters taught me that I need to be stronger," Yurtseven told
Basketball News in a phone interview. "That's the best part about
basketball: There is no limit that you can cap yourself on if you
keep working and keep believing.
"I saw I needed to add strength. But you can't disregard agility
because you have to keep up with the skinnier and faster bigs, too.
Playing against Embiid, though, I think I made it hard for him and
contested shots. But I know I can be stronger.
Yurtseven's highlights are impressive. He moves well without the
ball, gets up and down the floor, screens and rebounds well, and
demonstrates good moves in the mid-post and around the rim.
His playstyle is a bit of a throwback. Despite knowing that the
game is more perimeter-oriented than ever, he only attempted 11
three-pointers last season. Standing 7-foot tall, being an active
rebounder and performing at his best when catching the ball on the
block, Yurtseven leans on the most natural parts of his game.
When asked about his first NBA season, he relays he learned a
lot, and notes that there is still work to be done to improve.
"Last year was basically my rookie year, and that was my first
time against Embiid. I had my first start last year, my first
double-double," Yurtseven said. "So, this year, it's all something
I've done before. I'll be better prepared knowing what I'll face
and knowing the ups and downs.
Looking ahead is a natural part of professional sports, and it's
no different for Yurtseven. In speaking to him, it's evident that
he's excited about what's to come, and he has set out many goals
for himself in the near future.  
"No. 1 is getting that rotational spot during training camp and
throughout the season. In order to do that, I need to be in the
best shape I can, which I am [currently]," Yurtseven said. "Cutting
down the body fat and increasing weight, it's been a grind. But
it's an everyday thing. I've been doing it non-stop for four years
now."
Yurtseven's success, at least this season, will be predicated on
how well the lineups in which he's featured fare. Understanding
that each play could impact his future, and that legends like coach
Erik Spoelstra and Pat Riley are directly involved, would rattle
most of us, but Yurtseven isn't the least bit intimidated by
it.
"[It's] exciting more than anything because every day is a
different challenge," Yurtseven explained. "They demand a lot of
you, but that also shows their belief. That's what a lot of players
misinterpret. They think, 'Coach is yelling at me,' and [will] be
bummed about it. Or, [instead], they can say 'He believes in me and
knows and wants that extra edge that he knows I can give him.'"
All NBA teams have strength and conditioning programs, but none
are as notorious as Miami's. That program has led to some seriously
impressive transformations. (Notably, former guard Dion Waiters,
who was in good-but-not great shape before joining the Heat,
sporting six-pack abs after landing in Miami.)
And while it involves treacherous preparation, it's all just
part of Spoelstra's plan to be better prepared to run than the
competition. However, it's Yurtseven's personal training regimen
that makes him confident about winning his spot in the Heat's
rotation come training camp.
"All the coaches have been saying is, 'If you want minutes, come
get them in training camp.' So, that's my focus," Yurtseven said.
"There's no such thing as over-preparation. So, I have to be in the
best shape of my life and be ready — the rest will take care of
itself. (The Heat coaching staff) is extremely demanding. Mondays
are really tough in camp," Yurtseven continued. "They know you got
a little rest on the weekend. So, you go all out, and it takes
everything out of you."
A major part of Miami's training camp is the "10's," a timed
test that players must pass. It involves running 10
baseline-to-baseline sprints in under a minute.
"You do 10's, and before that, you do a lift, conditioning
workouts," Yurtseven said. "Personally, I go for extra vitamin
sessions at night, too."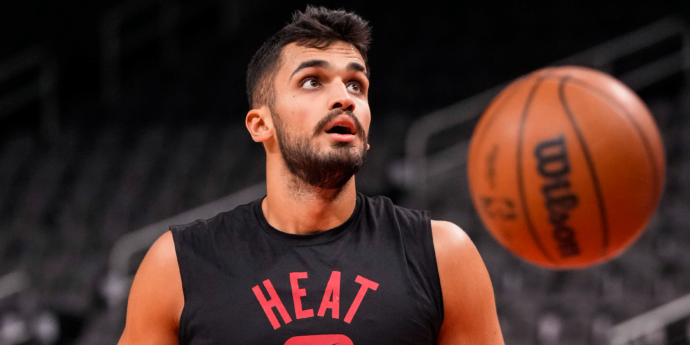 Yurtseven is keen to point out that the adage about achieving
success through goals and habits is accurate. In doing so, he
revealed a lot about the dedication, on and off the court, that's
necessary for success.
"When you get your body fat percentage down, it gives you
another gear. I've realized that more since I've dropped body fat,"
Yurtseven explained. "It's been amazing to feel that and get closer
to [reaching] your potential or maximum speed. "There's a saying
that you can't outwork a bad diet, and it's definitely true. I've
tried it both ways — I've tried to outwork a bad diet, and it did
not work. You just have to watch what you eat.
"I have a chef now who takes care of my nutrition. He adds up my
daily protein, carbs, calories, whatever. He knows what I'm trying
to do, and that helps me control energy levels and stay on top of
body fat," Yurtseven continued. "You see guys like Jimmy [Butler]
with very low body fat and you see it in his reaction time, and
speed and agility. Everything is more explosive because he doesn't
have excess body fat that slows you down."
Dietary concessions are a necessary part of preparing for an NBA
season, but those are usually difficult to make. Like the rest of
us, Yurtseven struggles with cutting out foods. But he dropped some
knowledge on how he approaches clean eating and exactly which foods
he avoids.
"It's a long list. I think I have a sweet tooth. And overall, I
love eating and trying different foods," Yurtseven said. "Where I'm
from, I was introduced to a whole different array of flavors. No.
1, though, is sweets, which I've had to cut out. There's no end to
the amount of calories [that sweets add].
"Trail mix, too, because they seem like an innocent snack. But
[it's] all sweets: Cookies, ice cream, even cereal. It's just
little changes that add up, eliminating 1,000 or more calories per
day."
Considering the reputation Miami has for its nightlife, you
might imagine that a young and handsomely paid individual like
Yurtseven might struggle with that side of the world, too. But
fortunately for all involved, that's not a problem for
Yurtseven.
"The scene is always there. Overall, you have to put the horse
blinders on," Yurtseven said. "There's no doubt that alcohol is not
good for you, and guys do drink. I don't consume alcohol because of
my religious beliefs, but it can make you retain body fat.
"The party life can consume so much time and energy that you can
otherwise invest in yourself. I think clubs are weird; I've never
been to one in Miami. I'm trying to keep that streak going. I just
stay in — play my video games if I need to, [take advantage of]
pool time, [go to] the beach. There are a lot of distractions here,
and it's a big challenge for anyone who comes here. It's just a
sacrifice that you have to have in mind."
Ultimately, Yurtseven just wants to secure that spot with the
Heat, though, and his mindset and worth ethic should aid him in
securing it.
"I'm a little crazy, too," Yurtseven joked. "I always do extra —
extra reps or whatever it is that gives me an edge, I'm going for
it. The Heat culture is intense, but I'm a little crazy (too), so I
do more on top of the crazy.
"I just have to play [in a strong manner] so they say, 'How can
we not play him? He helps us in all these areas.' And I
will showcase that," Yurtseven continued. "Np. 1 is defense, my
change in agility, energy and focus; once I show that, it will give
them the confidence to trust me and leave me out there, and that
opens the door for me to showcase my offensive package.
"The goal is having that role where I shoot the ball, rebound
the ball, defend, and I'm able to showcase my skill set more in the
mid-post when I get a catch. Being able to have my go-to moves to
shoot a high clip."
Having reached the NBA Finals in 2020, appearing in the playoffs
for three straight years and advancing to the Eastern Conference
Finals last season, the Heat have had their fair share of
success.
But Yurtseven hopes the team eclipses all recent outcomes in
2022-23.
"One-hundred percent [the goal is a] championship," Yurtseven
stated. "I think we fell short last year because there were moments
when the team needed another guy or two to step up in every area.
Sometimes it was offense. Sometimes it was defense. And that's what
I think we'll do this year."
Longer term, Yurtseven sees his future in Miami, too. And while
many present-day athletes tend to stay mum on the subject of
contract negotiations, Yurtseven seems to feel strongly about being
with the Heat organization. Still, as an unrestricted free agent
after this season concludes, he understands that where he plays is
not entirely his decision.
"Miami [is] a team that believed in me when a lot of teams did
not," Yurtseven said. "And I would love to finish and retire and
say that I started my journey here and ended my journey here. But
you never know because it is a business."
While the 2022-23 season counts as Yurtseven's sophomore
campaign, there's already a make-or-break feel to it, with nowhere
to go but up. If he outperforms expectations, Yurtseven could
secure a longer-term deal — with the Heat or elsewhere.
And if that happens, we're all more likely to get familiar with
Omer Yurtseven.