Stephen Curry is a significant basketball icon of his generation. In the discussion about the GOAT, Steph's name is frequently mentioned. The 34-year-old Golden State Warriors point guard made his mark in the game with his almost unreal three-point shooting ability. But when it comes to the Curry family, Stephen Curry is not the only one making the headlines.
Mother Sonya Curry is an entrepreneur, educator, and founder of the Christian Montessori School of Lake Norman in North Carolina.
ADVERTISEMENT
Article continues below this ad
Athlete, writer, or entrepreneur, one can find a member of the Curry family making their way in these fields. The Curry family is arguably the most popular family of the NBA today. Starting from father and Charlotte Hornets legend Dell Curry, to mother and teacher Sonya, and their three kids: Stephen Curry, Sydel Curry, and Seth Curry. The family is known as the 'First Family of the NBA', a title many fans will likely agree with.
Stephen Curry and Sonya talk about her new book
Both parents made sure their kids had discipline and passion for whatever it is they put their minds to. While speaking with Stephen Curry about her new book, 'Fierce Love', Sonya Curry was surprised to see the number of offers she received for her book. 'Fierce Love' chronicles the stories of her raising her kids and her devotion to education, her faith, and her family.
"We're working on the book and I send it out, and I'm like, 'Nobody wants to read this book, like really, ok. And I had nine offers to publish this book and then I'm like, 'Oh my gosh this is real'. Then I sign a contract and bam, there it is," she explained.
ADVERTISEMENT
Article continues below this ad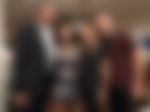 "And that all happened, from the agent, to the writing of the book, 18 months max, really to do that," she added.
Watch This Story: Stephen Curry's Parents Dell and Sonya: Has the Couple Interchanged Partners With a Married Couple?  
ADVERTISEMENT
Article continues below this ad
Stephen Curry is fresh off a fourth NBA championship and a first Finals MVP award with the Golden State Warriors. And he will undoubtedly be ready to defend his crown next season.
Do you think Curry and the Warriors can run it back again next season? Please share your thoughts in the comments section below.