LeBron James once gave Stephen Curry a nickname very close to his own. The NBA legend often visited Curry's games to witness the rise of a generational talent. A perceptive student of the game, LeBron James could easily sense greatness in the still relatively unknown Davidson star.
Therefore, he gave the talented 6'2″ guard a name that would provide the perfect backdrop to one of the NBA's biggest rivalries. In other words, LeBron James would anticipate the rise of one of the most unexpected superstars in league history, who would completely transform the game of basketball.
ADVERTISEMENT
Article continues below this ad
LeBron James gave Stephen Curry his own nickname way back in college
During Stephen Curry's Davidson days, a large section of NBA aficionados ignored his talent because of his lack of size. However, Curry's prowess on the court couldn't deceive LeBron James' high basketball IQ.
The Los Angeles Lakers superstar could see a marvel unraveling in front of his eyes. Therefore, King James decided to show his appreciation for the young star by giving him his own nickname.
"I was a sophomore in college and LeBron was coming to my games," Curry told GQ. "He signed a jersey for me. I think that was November of my junior year."
"And he wrote it to me, called me the king of basketball in North Carolina," he added.
However, even LeBron probably couldn't have guessed that he would meet the "King" of North Carolina in the NBA Finals for four consecutive years. In those four Finals, Curry's Golden State Warriors would get the better of LeBron's Cleveland Cavaliers.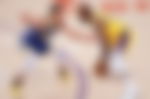 However, King James would emerge as the greater player, especially after the Cavs' win in 2016. But above all, the rivalry between the two all-time great superstars would make its place in the history books.
ADVERTISEMENT
Article continues below this ad
James and Curry's legacy
After winning four NBA championships, four MVPs, and four Finals MVPs, LeBron James has cemented his place as one of the greatest players of all time. In fact, James and Michael Jordan have pretty much bifurcated the NBA fanbase on the GOAT discussion.
ADVERTISEMENT
Article continues below this ad
WATCH THIS STORY: LeBron James, Trae Young, DeMar DeRozan And Other NBA Stars Who Brought The Razzle Dazzle to The Drew League This Year
On the other hand, Stephen Curry has established himself as the greatest shooter ever. In addition, he has also registered his name as the leader of one of the NBA's most dominant dynasties. Especially after the Warriors' fourth championship win in this year's NBA Finals.