The Golden State Warriors locked horns with the Philadelphia 76ers last night in the absence of their talisman, Stephen Curry, who would be out for at least two weeks with a shoulder injury. The Dubs lost the game by a margin of 12 points against James Harden and Co. Jordan Poole stepped up to the plate. But his singular efforts were not enough, as Klay Thompson and other members were unable to deliver on the court. However, the Warriors' head coach Steve Kerr looked optimistic about the future performance of one of the stars on the roster despite his poor showing amidst an ongoing battle with a tender knee.
ADVERTISEMENT
Article continues below this ad
Last night, the performance of the Warriors showed that they probably missed the presence of Curry on the court as the game ended with a score of 118-106. Klay Thompson, who needed to be at his best against the Sixers, also looked a bit off. However, after the match, the Warriors head coach looked optimistic about Thompson.
ADVERTISEMENT
Article continues below this ad
Steve Kerr optimistic about Klay Thompson
Thompson finished the game against the Sixers with 12 points, three rebounds, and zero assists. He shot 4-for-17 from the field and missed eight of his nine shots from inside the arc. The four-time NBA champ was also not effective down the court. However, his surgically repaired knee might have been the prime reason behind this not-so-promising performance.
DIVE DEEPER
Regardless of everything, Kerr understood why the Splash brother performed the way he did. The veteran coach admitted that it was a tough night for Klay. Subsequently, he added, "His effort was there, but the shots weren't going. He had some good ones. He maybe rushed a couple. But it just wasn't his night. He'll bounce back."
ADVERTISEMENT
Article continues below this ad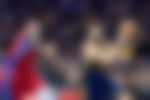 Therefore, Kerr's statements implied that he was hopeful that the Big Smokey would bounce back as soon as possible and overcome his ongoing battle with his tender knee. Kerr also indicated that he believed Thompson would be able to lead the Warriors in the absence of their leader.
The Warriors' are currently 11th in the Western Conference with a record of 14-16. If Thompson fails to step up in the absence of Steph Curry, the Warriors could very well see themselves out of playoff contention.
ADVERTISEMENT
Article continues below this ad
Watch this story- Pacers rookie Andrew Nembhard joins Stephen Curry and Trae Young in a historic list after going off against the Warriors
What are your thoughts on the remarks of Steve Kerr? Please let us know in the comments below.