Michael Jordan entered the NBA league in 1984 as a shooting guard. At that time, there was already an established NBA star who had entered the league five years before Jordan. Earvin 'Magic' Johnson Jr. was drafted in 1979 by Los Angeles Lakers. In the five years of his NBA career, before Jordan came along, Johnson had won two NBA Championships out of the four times the Lakers competed in the finals.
It is known that Jordan and Johnson share a great relationship. But before their meeting, Jordan idolized Johnson as a fan. Jordan revealed that he used to be called 'Magic Johnson' during his high school years. He further said that he envied Johnson because the former Lakers player was already a star when he entered the league due to his prosperous career in college basketball.
ADVERTISEMENT
Article continues below this ad
DIVE DEEPER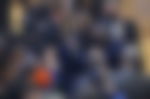 Furthermore, Jordan told Playboy that it was in his third year that his idol invited him to play in a charity game. That was when the two NBA legends began their relationship. Despite playing for different teams, the duo went on to form a great friendship. Their friendly rivalry was evident during the times they would face each other. So when Jordan was informed of Johnson's abrupt decision to retire, Jordan almost 'drove off the road."
Magic Johnson's composed nature helped Michael Jordan
Both Michael Jordan and Magic Johnson had plans for their careers. Jordan had won his first NBA championship in 1991 by beating Magic Johnson's Lakers. The Bulls legend had not expected that it would be the last season for Johnson. On the other hand, Johnson had wanted to play in the Olympics. In an interview, host Marla Maples stated that she knew Johnson still dreamed of playing in the Olympics.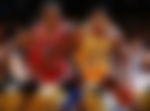 ADVERTISEMENT
Article continues below this ad
"Yeah, I think that's the only dream that has eluded him in his whole career, which you know, his career's been unbelievable. But, I think that's something that he would have come out of retirement to do," said Jordan.
MJ had received the news of Johnson's decision to retire before the latter's press conference. He was driving when he called Johnson's agent Lon Rosen after MJ received a voice message from him. Jordan almost drove off the road when Rosen gave him the news. He then called Johnson to confirm it.
"He's very strong and vigilant, you know, and he was a lot stronger that I was when he actually told me. And that really helped me overcome what he was actually telling me," said Jordan.
ADVERTISEMENT
Article continues below this ad
Fortunately, Johnson's dream of playing in the Olympics was fulfilled a year later. Despite his retirement, Johnson went on to be part of the Dream Team in the 1992 Olympics along with Michael Jordan and Larry Bird.
WATCH THIS STORY: Is Stephen Curry a billionaire?