WNBA star Brittney Griner has garnered a lot of hate and support worldwide simultaneously throughout her brilliant career in the league. Ever since her debut for the Phoenix Mercury, she has been a controversial figure.
In 2013, she came out as gay, revealing her sexuality freely in front of the public while being the center of all the attention. Despite receiving a lot of hate, she never failed to express herself and talk about her sexual orientation openly.
ADVERTISEMENT
Article continues below this ad
Moreover, she has talked on multiple occasions about her aspirations to become a role model for millions around the world. It is safe to say, she is certainly a role model for people around the world who are facing similar issues in their lives.
Interestingly enough, she is not the only major female athlete to come out openly regarding their sexual identities. Fellow athletes like Megan Rapinoe and Martina Navratilova, have come out similarly in the past.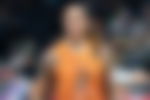 Furthermore, former NBA star Jason Collins had also decided to take this huge step in his life and career. Back in 2013, the former Boston Celtics and Brooklyn Nets star came out openly to the world. Needless to say, Griner was elated regarding this news of a fellow basketball star having the courage to take such a bold step.
Brittney Griner was happy after hearing Collins' news
Phoenix Mercury star Brittney Griner made headlines worldwide after coming out openly about herself in 2013. During the same time, 7-foot-NBA star Jason Collins also decided to take the big step.
ADVERTISEMENT
Article continues below this ad
Talking about Jason, Brittney said, "When the NBA center Jason Collins announced he was gay last week, I was thrilled." She further elaborated, "I think that's what makes life beautiful: everyone is different and we can all learn from one another."
Collins made the news in April 2013 when he appeared on the cover of Sports Illustrated next to 'The Gay Athlete' written in bold. As it turns out, he was ready to make the announcement during the 2012-13 season but he did not want to trouble his previous teams.
ADVERTISEMENT
Article continues below this ad
WATCH THIS STORY: How has Stephen Curry Progressed On NBA 2K over the years? 2k23 Rating & More
Currently, Brittney Griner is facing a lengthy nine-year sentence in a Russian penal colony. As per reports, Russian penal facilities are infamous for their treatment of LGBTQ inmates. Therefore, Griner faces heavy uncertainty in her exile amid ongoing negotiations of her release.